Often hidden in quiet and remote corners of Exmoor, you will find some delightful and very small 11th-13th century churches. They are very simple but because of that, delightful. But also, they are friendly and welcoming. I don't think I am alone in finding some churches spooky, daunting and unwelcoming, particularly if you are alone.
I always find these small churches open, the porch often with outside gates with wire-netting to prevent swallows from nesting in the eaves. Then, often as not, a massive oak door creeks open to reveal a simple interior, sometimes with a wagon-roof and boxed pews. Simple glass windows let the sun shine in on to white-washed walls with plaques commemorating local dignitaries, long past.
My choices have no preference as each church is charming in its own right.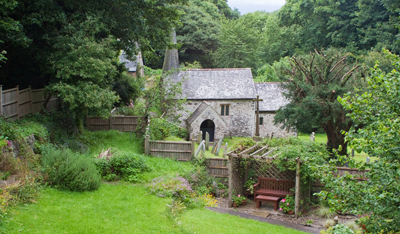 My first choice is Culbone church, probably the most remote church on Exmoor, only accessible by walking the South West Coast Path for just over 1.5 miles from Porlock Weir. It is reputed to be England's smallest church still in use. It can seat about 30 people.  It is dedicated to the Welsh Saint Beuno. The interior still has boxed pews and a simple screen. The gravestones in the churchyard reflect names used by RD Blackmore in his tale of Lorna Doone.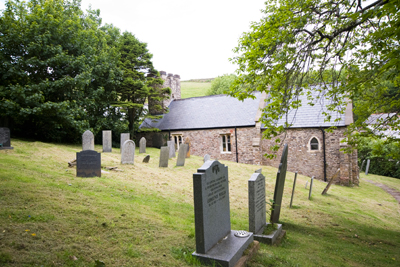 My next choice is Trentishoe church. At least you can drive to this small church on single-track roads between Combe Martin and Hunter's Inn. It is close to the South West Coast Path, perched up high on the side of a hill. It is dedicated to St Peter. The small open porch complete with nesting swallows, leads into the simple interior. Here you will find the church organ which comes from the Mauritania cruise ship. In the eaves of the chancel you will see bats hanging from the rafters, the carpet protected by a plastic sheet.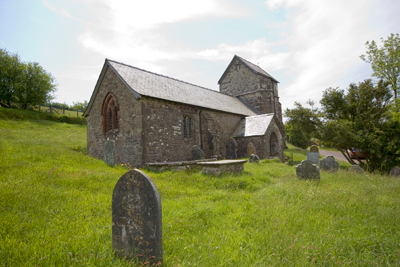 Stoke Pero church is another well-hidden small church seating about 40 people. It is thought to be the highest (in altitude) church in England. It is approached on single-track roads between Exford and Porlock. As you drive these roads there is a good chance of seeing herds of red deer. This church does not have a dedication, but one of its bells is inscribed Sancta Barbara. It is a simple design with a tower with a pitched roof. Passing through a solid door, inside is an excellent wagon roof and a good-sized organ. Candlesticks are still very evident, electricity clearly being something quite new to the church.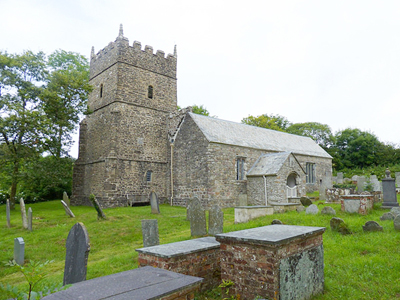 St Petrock's church in Parracombe is a gem. It is a Grade 1 listed building and very visible from the main A39 as it goes between Blackmoor Gate and Lynton. It is one of two churches in Parracombe, St Petrock's being now a redundant church in the care of the Churches Conservation Trust. You enter through a large porch with a sundial above. The interior is full of character with the Ten Commandments painted on boards above the simple screen. The boxed pews are still complete and the arcade leans slightly. That is a surprise when you see the thickness of the walls. At the west end is a musician's gallery.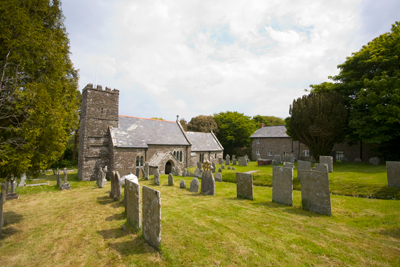 It is actually quite a trick to choose my fifth favourite as there are so many charming small churches on Exmoor. But I am going to go for Martinhoe church. Situated on a quiet country lane between Hunter's Inn and Woody Bay, this church has quite a large churchyard for such a small hamlet. As with Culbone church, the gravestones depict many names used by RD Blackmore in his story of Lorna Doone. This church is dedicated to St Martin. On entering the church you are greeted by an impressive font and a beautifully kept interior, boasting stained-glass chancel windows.
Well, I could have easily added a lot more to my list. I am sure you will come across them when going around Exmoor. I have written some drives around Exmoor that take these churches in. You can download them free from the Free Downloads page https://www.visit-exmoor.co.uk/free-downloads .
Bryan Cath, Exmoor Walking Festival Co-ordinator.
www.combewalks.com. www.exmoorwalkingfestival.co.uk