Fishing on Exmoor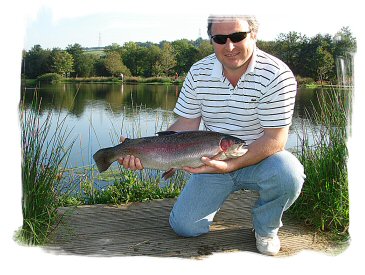 For Fisheries around Exmoor, click here.
Click here for a choice of green holiday providers.
Exmoor and its immediate surroundings offer a wide choice of opportunities for fresh and seawater fishing, mostly at reasonable prices. They offer both variety and challenges to serious fisherman on dedicated trips and options for a more varied holiday. They can slip away in the early morning, in the evening (or at any time!), leaving the others to relax and enjoy their chosen base, be it bed and breakfast, self-catering or a peaceful inn or hotel.
Most of the freshwater fishing is game fishing although there are some coarse fisheries, several of which are private lakes associated with self-catering and bed and breakfast cottages and farms.
Game fishing choices are very varied: wild brown trout, stocked trout, mainly, but by no means exclusively, rainbows, some grayling (e.g. in the River Exe), sea trout and salmon. The surrounding scenery is peaceful and stunning. Because few people know about Exmoor, its fishing is uncrowded and fellow fishermen that you may meet are friendly and helpful. Most of the waters are accessible by short notice, or self-serve, day permits with long lengths of bank to explore. For a lunchtime, or evening break, there is usually a good pub nearby - probably requiring a few minutes in the car.
If you enjoy having the freedom to search miles of river for wild brown trout and fishing small nymphs or dry flies, then consider the rivers Barle, Little Exe and Lyn.
If you like searching round the bays and small inlets of larger still waters to find where the rainbows are patrolling or the lies of wild brownies, then try Wimbleball Lake and Clatworthy Reservoir (the Upton Arm of the former has a small mayfly hatch!).
If you have studded waters and are energetic, try for a fresh run salmon or grilse in the dramatic East Lyn.
If you are new to fly-fishing, want to introduce a friend or spouse to it or just feel like a bit of easy fun, then try the large lake of Exe Valley Fishery, at Exbridge, and fish on or close to the surface -- or put together your own week's fishing at these and several other fisheries -- or even just decide on the day!
The choices are yours - come and make them!
Seasons:
trout: mainly mid March to end Oct. (some fisheries open all year), (salmon mid March - end Sept.)
Expect to pay from £3 - £15 for Trout Fishing and £20 - £50 for migratory fish. It is the law that all anglers carry an E.A. Rod licence valid for the species they intend to catch. There is a hefty fine for anyone found not to be in possession of a current licence!
The rod licence is easily obtained from any Post Office and various options including day, week and year are available. A rodlicence does not entitle the holder to fish anywhere, merely to use a rod on an inland watercourse. Always obtain a permit before starting to fish a chosen venue; this saves embarrassment and possible prosecution.
Licences & permits
can be obtained from:
South West Water (permit only):-
Leisure Services, Higher Combe Park, Lewdown, Okehampton, EX20 4QT: 01837 871565
Dulverton:- Lance Nicholson, Gun Shop, High Street: 01398 323409
Local Instructors
Webcam at Exebridge
View water levels live on the River Exe webcam at Exebridge.