13 Active Secrets in Somerset and Exmoor
Secrets 1-13 of the 50 secrets in Secret Somerset and Exmoor
DOWNLOAD our new suggested Active Itinerary, which gives you suggestions for two 'Secret' days out ideas in Somerset & Exmoor.
Also discover the Secrets Home Page with downloadable tools, the interactive map, and three other themed secrets pages: Culture Secrets 14-25, Heritage Secrets 26-38, Nature Secrets 39-50.
1. Ancient Royal Hunting Forest, Hoaroak Water in Exmoor
2. Waterfall on new stretch of England Coast Path, St. Audries Bay
3. Great Wood Volcano Walk, Quantock Hills
4. Stunning 360 degree view of the county from Burrow Mump
5. Coasteering on the highest coastline in England from Minehead
6. Somerset Space Walk along Bridgwater and Taunton Canal, Maunsel Lock
7. Best undiscovered Mountain Biking: Exford, Crowcombe and others
8. Climbing and caving in UK's largest underground caving system, Cheddar
9. Children's QR code poetry with views at Conygar Tower, Dunster
10. Hidden beaches and coves: Lee Bay, Exmoor
11. Victorian and WW2 Fort with sweeping views, Brean Down
12. Fake Bristol, WW2 bombing decoy town Black Down, Mendip Hills
13. King Arthur's Camelot at Cadbury Castle
---
1. Explore the ancient royal hunting forests reserved for kings
Star Location: Hoaroak Water via Prayway Head, near Simonsbath, Exmoor Forest TA24 7SS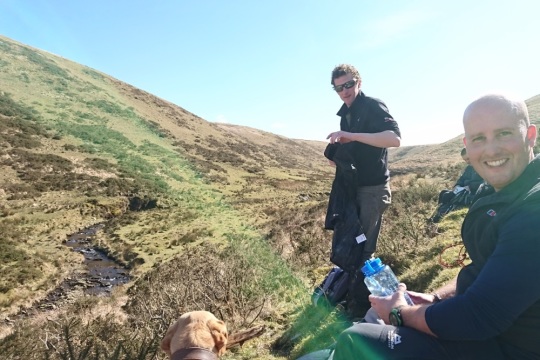 Somerset had a number of royal forests, including at Exmoor, Kingswood, North Petherton and Mendip, which were retained specifically for hunting by kings. Despite being called a forest, the largest one in Somerset, Exmoor, does not have many trees on it all! The Exmoor Royal Forest landscape is one of rolling open grass moorland, interspersed with steep combes and rivers. Its attraction for kings was its abundance of Red Deer, something which you have a good chance of seeing today on any walk in the area. Every June you can take part in a 725 year old tradition to walk part of the Royal Forest boundary. The Exmoor perambulation offers experienced walkers a challenging 16 or 31 mile walk through some of the area's most beautiful scenery. For visits at other times one option is to park at Prayway Head, and using an OS map, navigate to the beautiful Hoaroak Water.
Did you know? Forest law which protected the habitats of deer and boar was established by William the Conqueror, a keen huntsman.
Access: The Exmoor Forest area is a challenging walking landscape for experienced walkers. Sturdy walking boots and clothing are required, along with the ability to read and use Ordnance Survey maps (Explorer OL9 Map). Visit the perambulation website for details of the organised walk in June. At other times, head to Prayway head, which is about 1 mile north of Simonsbath on the B3223. From her it is about 2 miles to the southern part of Hoaroak Water.
Image: Walkers taking a rest at Hoaroak Water in Exmoor Forest by Robert Downes for Visit Exmoor
Links: Exmoor Perambulation
---
2. Discover the waterfalls on the newest stretch of England Coast Path
Star Location: Waterfall at St.Audries Bay, near West Quantoxhead TA4 4DP
The newest section of England's coastal path is now open, and its home is in beautiful Somerset! The 58 mile stretch follows two thirds of the county's coast from Brean Down to Minehead, which represents a significant step towards the creation of the completed England Coast Path by 2020. The waterfall at St Audries Bay plunges straight down onto the beach and can only be reached on foot at low tide. Park at Home Farm and walk down to explore the great coast.
Did you know? Grand Designs' Kevin McCloud built a cabin from cast offs above this stretch of coast, made his own soap and showered under a cliff waterfall.
Access: Parking can be found at various points along the entire route, from where shorter walks can be done. To explore the water features of St. Audries Bay, either park at Kilve and walk to Donniford/Watchet, or drive to Home Farm Holiday Centre, where there is a visitor parking area with toilets, and a short walk takes you down to the beach. To get to Home Farm, leave the A39 just after West Quantoxhead and head towards Donniford. The turning for Home Farm is about half mile on the right.
Image: Walker at St. Audries Bay on the England Coast Path from Visit Somerset image library
Links: England Coast Path
---
3. Trek over rock from an extinct volcano in the Quantock Hills AONB
Star Location: Great Wood, Quantock Hills AONB TA5 1HN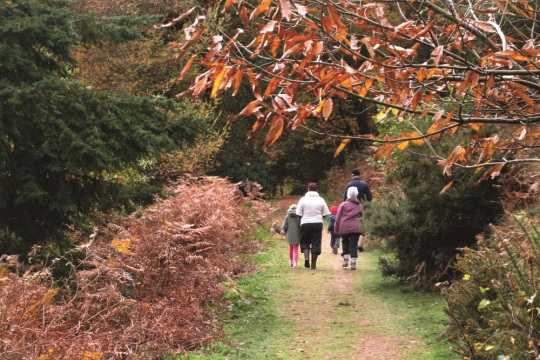 This incredible walk uses tracks and bridleways through Great Wood forest. As well as crossing fields and parkland, you'll also trek over rock from the Quantock's very own extinct volcano. Through differing levels of the forest canopy, you will see huge tall trees, as well as new growth. This allows for amazing views and vistas that make this walk truly magical.
Did you know? Seven Wells car park is named after the seven springs that rise there. The Quantocks AONB is 60 years old in 2016 and was the first such designation in the UK.
Access: For this walk drive to Seven Wells car park (marked on pdf map). Access is from the Nether Stowey/A39 side of the Quantock Hills. From Bridgwater, leave the A39 just past The Cottage Inn pub, where the road forks left. Drive up past The Campbell Room through Adscombe and past Great Wood Camp car park. Seven Wells is further on at the T-junction of roads.
Image: Walkers in the Quantock Hills AONB from Visit Exmoor image library
Links: Great Wood Volcano Walk leaflet
---
4. Savour breath-taking 360 degree views from the summit of a Mump
Star Location: Burrow Mump, Burrowbridge TA7 0RB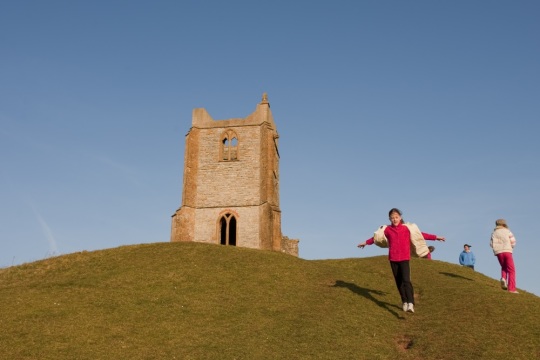 Burrow Mump is a hill and historic site overlooking Southlake Moor in the village of Burrowbridge. It is a scheduled monument, with the ruined church on top of the hill a Grade II listed building. There is an array of hill-tops around the Somerset Levels that offer dramatic and expansive 360 degree views of the county, with intriguing names such as Tor, Mump and Knoll. Although some physical effort is required, varying from short climbs to longer steeper climbs, it is well worth it for the breath-taking views from their summits.
Did you know? The ruined church was built on the ruins of a medieval church and is a war memorial.
Access: Parking is at the National Trust car park (free) on A361 between Othery and Lyng. There are no toilets. Nearest food and drink available at King Alfred Inn nearby.
Image: Children playing at Burrow Mump from Visit Somerset image library
Links: Burrow Mump
---
5. Enjoy coastal adventures on the highest sea cliffs in England
Star Location: Adventures start from Minehead, TA24 5UL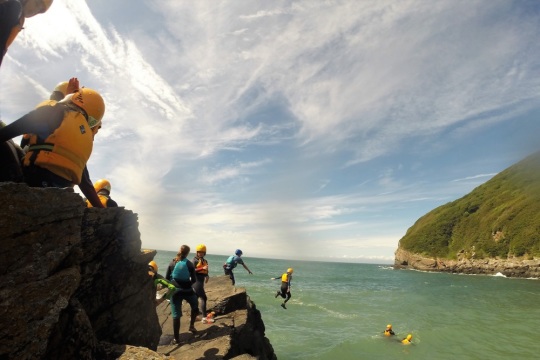 Exmoor has the highest coastline in England and Wales so why not explore this fabulous landscape through great activities like coasteering or kayaking. Join a group run by a professional qualified instructor to jump off cliffs, scramble over rocks of spot wildlife from a kayak or canoe. Channel Adventure and Exmoor Adventures both operate out of Minehead and can create bespoke half or full day group adventures. Throughout the Summer Channel Adventure runs sunset sessions in Minehead Harbour and at Wimbleball Lake. On still days, Kayaks can be hired from Combe martin beach.
Did you know? Harbour porpoises can be seen along this coast throughout the year.
Access: Access for this depends on the organised group activity and agreement with Adventure Activity companies. Some activity begins and takes place in Minehead, or at different points along the Exmoor coast. Contact Channel Adventure or Exmoor Adventures for more details.
Image: Group jumping off cliffs by Channel Adventure
Links: Channel Adventure on Visit Exmoor
---
6. Unravel the secrets of the solar system on the Canal Space Walk
Star Location: Maunsel Lock Canal Centre, TA7 0DH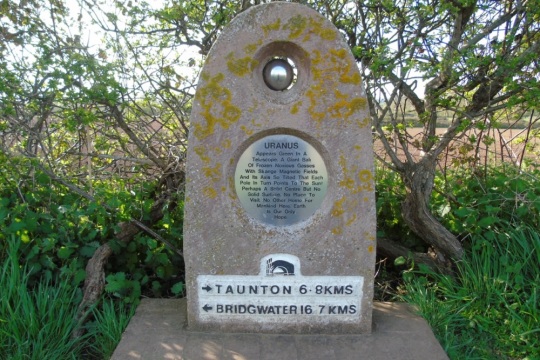 The Bridgwater and Taunton Canal makes for a great day out for the whole family, with an array of sights to see along the way. You can visit Maunsel Lock, where there's a delightful tea room, canal boats and the start of the Somerset Space Walk. The model of the Sun and its planets were designed by Inventor Pop Youngman as a way of challenging our perceptions of space, and experiencing the vastness of the Solar System. The sculptures are in proportionally correct sizes and distances apart, making a great learning curve for people of all ages.
Did you know? The canal was built in 1827 linking two rivers and extended into a float harbour at Bridgwater Docks.
Access: Parking is at Maunsel Lock Canal Centre. From Bridgwater or Taunton take the A38 and turn off onto the A361. After half a mile or so, take a left towards Hedging and follow signs. After parking walk across to the café, where there are toilets.
Image: Uranus sculpture on Somerset Space Walk By John Carter for Visit Somerset
Links: Somerset Space Walk, Maunsel Lock Canal Centre
---
7. Discover one of the top off-road cycling destinations in the UK
Star Location: Exford (TA24 7PY), Simonsbath, Crowcombe and Lydeard Hill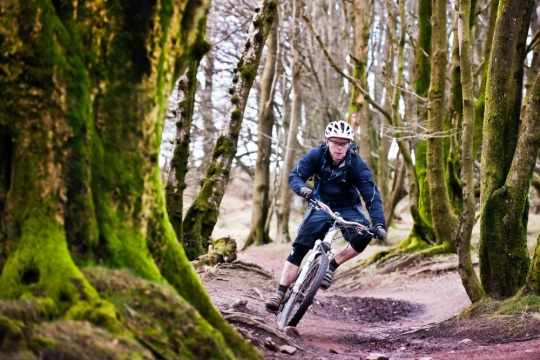 Exmoor and Quantock Hills are two of the best relatively undiscovered locations for mountain biking in the country. Central Exmoor locations like Exford and Simonsbath, with their pubs, tea rooms and local shops, make for great bases to explore some of the most challenging routes in the National Park.The southern end of the Quantocks, from Lydeard Hill car park, boasts a multitude of challenging downhill runs accessed by a steady fire-road climb. Starting early, you can get round all the finest trails in a day.
Did you know? British mountain biking champion Gee Atherton and his sister Rachel were born in Somerset
Access: Access is dependent on where you plan to cycle. Exford, Winsford and Simonsbath make for great start/end points as there are local pubs, tea rooms and facilities. In the Quantock Hills, drive up past Crowcombe to the main car parking area, or head to Lydeard Hill car park, up past Cothelstone from Bishops Lydeard.
Image: Cyclist riding in the Quantock Hills AONB by Colin Hawkins for Visit Somerset
Links: Mountain Bike Rider Top 20 UK Trails
---
8. Climbing and caving on the largest network of underground caves in the UK
Star Location: Cheddar Gorge BS27 3FQ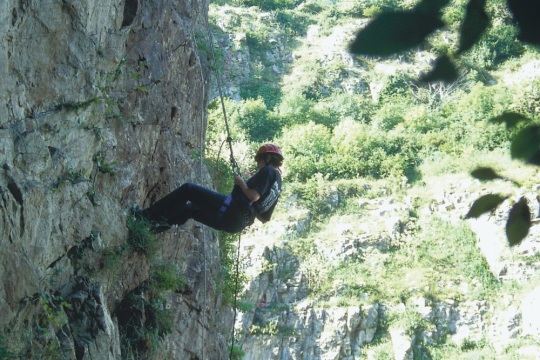 Somerset is famous for the Cheddar and Wookey Caves, but did you know that this network of caves is the largest in the UK? And with professional guides and in a group, you can explore it in new ways. The caving system also means that there is great rock climbing too. You need to be a member of the British Mountaineering Council or affiliated clubs to climb, but Xtreme Cheddar offers climbing for beginners as well.
Did you know? Britain's oldest complete human skeleton was found in Cheddar caves
Access: Xtreme Adventure are based out of Cheddar Caves. Contact them for more on climbing and caving. Plenty of car parking, shops, pubs and facilities in Cheddar.
Image: Climbing Cheddar Gorge with X-treme Adventure from Visit Somerset image library
Links: X-treme Caving, X-treme Climbing
---
9. Follow the QR Code trail to enjoy poetry by local school children
Star Location: Conygar Tower and Wood, Dunster TA24 6SE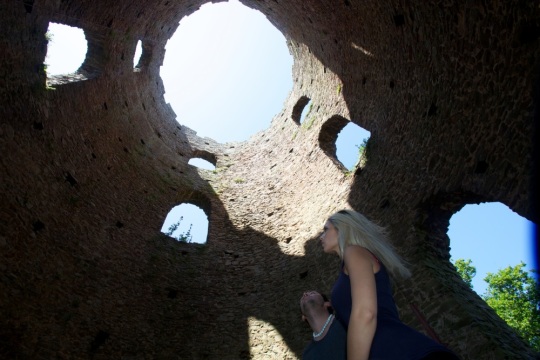 Pupils of Dunster, Nether Stowey and Porlock schools created poetry which was inspired through their immersion in the Somerset environment. Each school walked out of the classroom to brave the snow, rain, and icy winds in pursuit of their poetic art. To read the words the children were able to harvest from the clean bright air of Somerset 200 years after Coleridge and Wordsworth, step out onto the trail and decode yourself a poetry walk at Conygar Tower.
Did you know? There used to be a harbour at Dunster but the coast has since receded half a mile from the village.
Access: The best car park is at Dunster Steep, on the way up into the main part of Dunster Village (on the left hand side). From here walk up to the Exmoor National Park Centre. Just past the Centre on the right is a track that leads up to Conygar Tower.
Image: Couple inside Conygar Tower by James Walker for Visit Exmoor and Visit Somerset
Links: Conygar Tower Dunster Estate
---
10. Explore hidden beaches and coves, just perfect for rock pooling and picnics.
Star Location: Lee Bay, near Lee Abbey and Lynton EX35 6JJ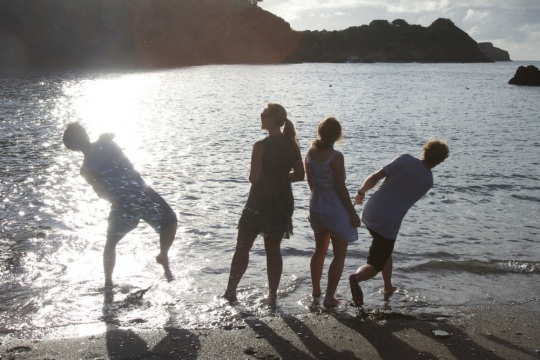 The Valley of Rocks is a dry valley that runs parallel to the coast about half a mile west of Lynton. Walk from the Valley or drive to park at Lee Bay for plenty of rock pooling, discovering wildlife, sandy beaches and rocky coves. The coastal cliffs here are amongst the highest in Britain and provide a real challenge for climbing enthusiasts. For those who love discovering hidden coves, why not explore Wringcliff and Woody Bay as well.
Did you know? Some of the reefs along the Somerset coast are built by the honeycomb worm.
Access: There are three key options for accessing the hidden beaches and coves. Park in Lynton or at Valley of Rocks and walk to Wringcliff and Lee Bay. Alternatively, drive from Lynton out to Valley of Rocks, and then on to Lee Bay, passing Lee Abbey on the right. A visitor car park with toilets sits just above the path down to the beach.
Image: Friends skimming stones on hidden Exmoor beach by James Walker for Visit Exmoor and Visit Somerset
Links: Lee Bay on Visit Exmoor
---
11. Climb up Brean Down fort to discover WW2 history and sweeping views across Somerset
Star Location: Palmerston Fort at Brean Down TA8 2RS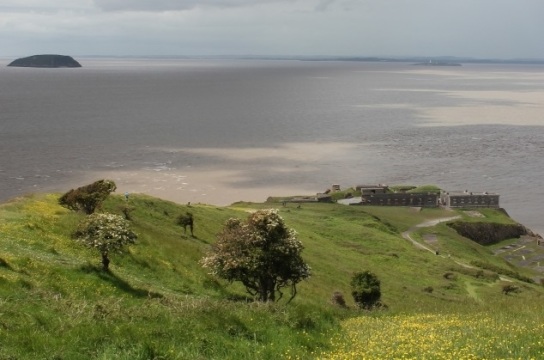 Brean Down Fort has a long history because of its prominent position - its earliest recorded settlement is from the Early to Middle Bronze Age. The current buildings were constructed in the 1860s as one of the Palmerston Forts to provide protection to the ports of the Bristol Channel, and was decommissioned in 1901. After a brief stint of being rearmed during World War II, the site is now owned by the National Trust and is open to the public. It offers great views of the Bristol Channel, Steep Holm and Flat Holm islands and Wales.
Did you know? The end of the fort's active service came in 1900 when a magazine full of gunpowder exploded.
Access: Head for Brean Down Cove pay and display car park, where there is a café, toilets and shop.
Image: View of Palmerston Fort at Brean Down by Vicky Banham for Visit Somerset
Links: National Trust Brean Down
---
12. Unmask a landscape laid out to fool WW2 enemy bombers at Black Down
Star Location: Black Down, Mendip Hills AONB BS40 7XU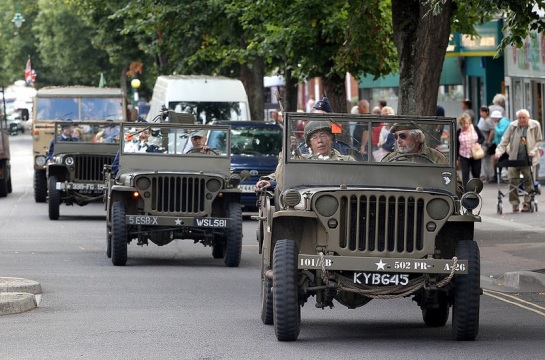 During World War II a bombing decoy town was constructed on Black Down, which was intended to represent the blazing lights of a town which had omitted to follow black-out regulations. The decoy, known under the code name Starfish from the original code SF (Special Fire) used fires of creosote and water to simulate incendiary bombs exploding. In addition glow boxes were used to simulate the streets and railways of Bristol.
Did you know? Official figures reveal that 730 bombing raids were diverted to dummy targets such as Black Down saving thousands of lives.
Access: At the roadside either side of the bend at Tynings Farm (please do not park or obstruct farm entrances). Lillypool Café and Farm Shop is next to turn for Tynings Farm off Shipham to Cheddar Rd.
Image: World War 2 vehicles travelling to Exmoor Big Adventure Day by Visit Exmoor
Links: Starfish Walk leaflet, Discovering Starfish on Black Down, Exmoor WW2 Big Adventure Day
---
13. Discover the legendary location of King Arthur's Court at Cadbury Castle
Star Location: Cadbury Castle near South Cadbury BA22 7HA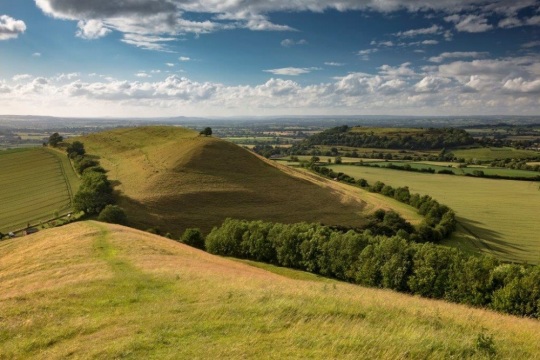 Explore Cadbury Castle, a Bronze and Iron Age hillfort that is a reputed site of King Arthur's Camelot. The hillfort offers sweeping views of central Somerset and a wealth of rich history to explore. Many interesting objects have been unearthed in South Cadbury including a decorated Bronze Age shield now housed in the Museum of Somerset.
Did you know? In winter, you can trace the possible route of Arthur's final journey, across the Somerset Levels to Glastonbury
Access: The turning for South Cadbury is close to Sparkford on the A303, west of Wincanton. There is a small car park on the left and a little footpath lane on the right which will lead to the top of the Cadbury Castle hill fort.
Image: View of Cadbury Castle by Discover South Somerset
Links: Cadbury Castle Walk Leaflet
---