Seeking to highlight the bountiful nature of this stunning area, #EatExmoor is a new marketing campaign putting the spotlight on Greater Exmoor's delicious local produce; where it comes from and how, where and when to enjoy it. Designed to attract more visitors to come to the area and also to encourage a greater interest and involvement whilst here..
Working in partnership with Exmoor National Park Authority and West Somerset Council, Visit Exmoor has produced a new #EatExmoor Guide and a dedicated new section on the official tourism website: www.visit-exmoor.co.uk/eat-exmoor
Download the Guide HERE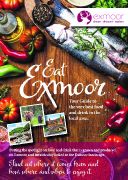 For ideas on how best to promote your use of local food - have a look at our Marketing ToolKit HERE.
If you want to be involved in #EatExmoor do contact marketing@visit-exmoor.co.uk