This year's National Parks Week (NPW) runs from 27 July to 2 August and there's plenty to going on in National Parks across the country – especially Exmoor!
National Parks Week this year draws attention to the productive landscapes of the 15 National Parks with the theme: "Landscapes of Plenty" to remind everyone that the 15 members of the UK National Parks family are home to more than beautiful landscapes. They are also places to find thriving, working communities producing all kinds of amazing goods, from gate to plate.
To get everyone in the mood, on Saturday 25 July there's a Family Walk and Treasure Hunt presented by the West Somerset Mineral Line Association. The walk will include a visit to Beulah Chapel, the winding house, Brendon village and part of the Incline. Plenty of fun for children with treasure to find. For more information visit www.wsmla.org.uk.  Booking is essential, call the National Park Centre in Dulverton on 01398 323841 the event is free, but donations are welcome.
Wildlife watchers will enjoy the Simonsbath evening deer search on Tuesday 28 July starting at 7.30pm. Join a National Park Ranger to try and locate the red deer of Exmoor – approximately 2hours/3 miles. Binoculars, walking clothes and boots are essential; no dogs allowed. There's no need to book, just turn up at Ashcombe car park in Simonsbath for this free event.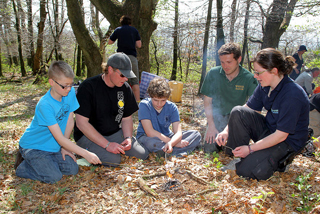 Wednesday 29 July is Bogtastic day, celebrating the special qualities of Exmoor's wildlife, heritage and moorland. This year's 'drop in' event starts at 10am and features the Bogstacle course, stream dipping, wildlife walks, bog safaris, the opportunity to visit one of the South West's last remaining operational water powered sawmills, and lots more all-weather and undercover activities. There is something for everyone. Children must be accompanied by adults please. Toilets, food and parking available locally. Please wear outdoor clothing and suitable footwear, wellies advised. Activities based at Simonsbath Sawmill (TA24 7SH) and Blackpitts (TA24 7LB), 2 km north of Simonsbath on the B3223. For further information and a free event poster please contact, contact 01598 752509, or for accommodation 01643 863150, www.heartofexmoor.org.uk/ or our Facebook page.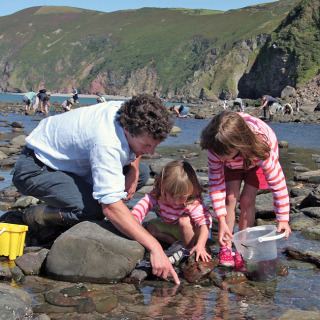 To find out who is eating who in the rockpools of Lynmouth, join the fun at the Seaside Safari from 11am – 1pm on 30 July. Fun for all ages – meet at the Lynmouth Pavilion on the seafront near the Cliff Railway. For more information contact 01598 752509.
Experience the twilight zone on Friday 31 July at 8:00pm and be guided by a National Park Ranger up the steep track to the highest point on Exmoor – Dunkery Beacon. Watch the sun set over the Bristol Channel & the distant mountains of Wales, and see the full moon rising like a huge Somerset Brie above the Brendon Hills (weather permitting!). Look out for red deer moving about in the twilight. Meet at Webbers Post grid ref – SS903439, there's no need to book – just turn up for this free event – donations welcome. Contact: 07772 989934.
There's another opportunity to peer in rockpools on Saturday 1 August – join the Devon Wildlife Trust and Exmoor National Park for a family friendly Shoresearch Seashore Safari on Lynmouth beach at noon. Come and learn about the fascinating marine life found in Exmoor's rockpools and take part in a timed species survey. Meet at Lynmouth Pavilion before a short walk down to the shore. More information: www.devonwildlifetrust.org/events or phone 01392 279244.
Also on 1 August from 11am-3:00pm a rare chance to visit The Culbone Stone (Culbone Hill TA24 8JW) – one of the more unusual reminders of Exmoor's ancient past. Come along at any point during the day to visit the stone (a 300 metre walk) and learn more of our early history. Limited roadside parking available and please note that no dogs are allowed. No need to book just turn up for this free event.  Contact: 07772 989934 for more information.
Details of all these events and many more can be found at: www.exmoor-nationalpark.gov.uk