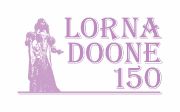 The 150th anniversary of the publication of Lorna Doone by R D Blackmore will be celebrated across Exmoor with a series of events throughout 2019.
This famous novel, first published in 1869, has never been out of print and its global popularity is witnessed not just in book form, but in countless films, TV series, songs, and even a Lorna Doone biscuit. The 150th anniversary year provides a great opportunity to celebrate the link between the novel, and the culture, landscape and heritage of Exmoor.
Download our free guide here.
See what events are happening:
April to October: Comprehensive Lorna Doone Exhibition covering all aspects of the story in Dulverton Heritage Centre, Dulverton www.dulvertonheritagecentre.org.uk 07969 243887
May to September: Lorna Doone Exhibition in the Dovery Manor Museum, Porlock. Celebrating the novel, and the re-enactments of 50 years ago. www.doverymanormuseum.org.uk
Lorna Doone Landrover Safari: Enjoy the commentary bringing the book to life as you drive through beautiful Doone country. 10 April, 8 May, 10 Jul, 14 Aug (other dates available for group bookings) Book through Porlock Visitor Centre: www.porlock.co.uk 01643 863150 £25 per person
Lorna Done Walk with Wild About Exmoor: 4, 28, 30 May, 3, 18 June, 14, 20 July. 7, 10, 13, 21, 30 August. Meet at Malmsmead gift shop, 10.30 am £12 per person. Children over 10 years to 15 years £8.00. www.wildaboutexmoor.com 01643 831759
Painting the Landscape of Lorna Doone: 11 - 12 May and 6 - 7July Winsford Community Hall, Two day course, 10 to 4pm, Course ID: C3530299 Course fee £74.00 www.wea.org.uk/find-course
Lorna Doone Literature Day School – 18 May Exford Memorial Hall, Exford, 10 to 4pm. 22 June Heathcote Community Centre, Tiverton. Course ID: C3530298. £35.00 www.wea.org.uk/find-course
An evening with Lorna Doone: Jonathan Edmunds talks about the enduring reputation of 'Lorna Doone' St. Luke's Church, Simonsbath. 18 May Booking essential 01643 831451 www.simonsbathfestival.org.uk
The Lorna Doone Experience: A full day out, including lunch, with Wild About Exmoor 6June, 2 Aug. Meet 10am, Malmsmead gift shop. Booking essential: www.airbnb.co.uk/experiences/466675
The Walking Book Club reads Lorna Doone: Allow two hours to walk, talk and celebrate. Departs 2pm from outside Number Seven Dulverton 22 June. £12 to include a copy of the book/ £7.00 without. Dogs Welcome. www.numbersevendulverton.co.uk 01398 324457
A Celebration of RD Blackmore's life: Songs, recitals and more, 23 June 4pm. St John the Baptist Church, Charles EX32 7PX. Please book: rdblackmore.charles@gmail.com or 07778 784448
Dulverton Summer Festival – Celebrating Lorna Doone: 29 - 30 June. A weekend of celebrations with re-enactment of scenes from the novel by Taunton Garrison, live music, children's activities, story-telling, Sunday banquet and outdoor movie. More info on Facebook @dulvertonsummerfestival
Lorna Doone Ramble: A six-mile walk taking in Badgeworthy Water and Lankcombe. 3 August. Free event, just turn up. Meeting at Dry Bridge SS759451 11am. angela.neal532@btinternet.com at North Devon Ramblers.
Meet the Exmoor Ponies: Lorna Doone Afternoon at the Exmoor Pony Project. 24 Aug at Holt Ball Farm, Luccombe, Minehead TZ24 8SZ. Details at www.wildponywhispering.co.uk
Pleasure Dome Theatre Company performs Lorna Doone outdoors at Valley of Rocks, Lynton 20 – 31 August www.pleasuredometheatrecompany.com
Lorna Doone inspired classical music concert: All Saints Church, Dulverton 12 October (part of Two Moors Festival) www.twomoorsfestival.co.uk
Lorna Doone Walking Holiday: Lorna Doone walks and talks, 10 - 13 Nov*, Dinner B&B for 3 nights, transport, packed lunches and guide from £315 pp Simonsbath House Hotel www.simonsbathhousehotel.co.uk (*These dates have changed from the original ones planned)
Keep checking back to see when more events are added