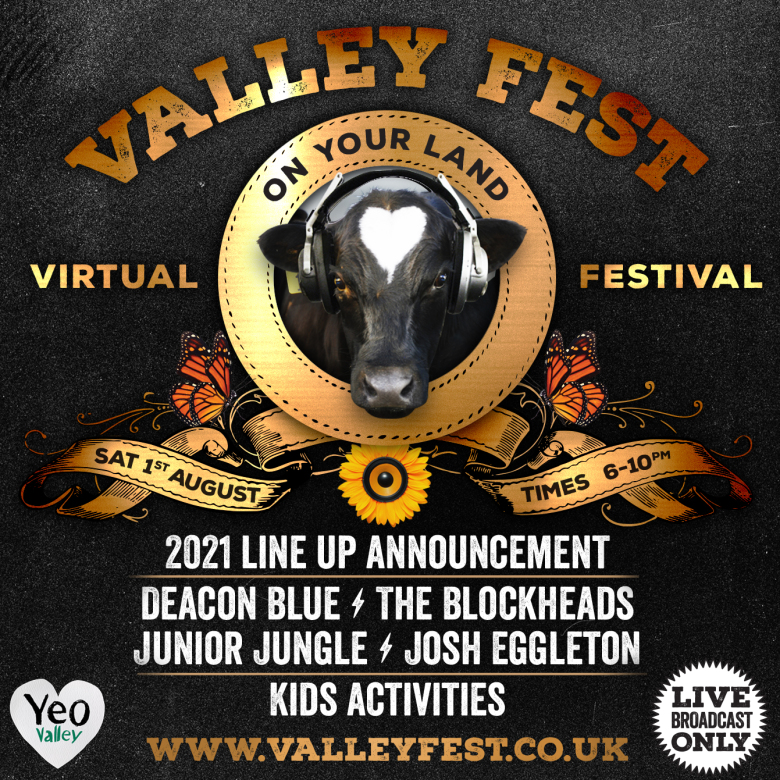 Necessity is the mother of all invention. Due to Covid-19, Valley Fest is offering a taster of what's to come at Valley Fest 2021 but on YOUR land. This one-time-watch virtual event is taking place on August 1st, 2020 between 6pm and 10pm.
Viewers can expect all sorts of treats: the 2021 line up will be announced during the event. The festival was due to announce their acts just as the pandemic began in March and they decided to delay it as the future looked uncertain. There will also be performances and video messages from The Blockheads, Deacon Blue and many more artists, musicians and DJs - including Junior Jungle, Tropical Tea Party and The Allergies.
On the food front, Michelin-starred Chef Josh Eggleton will be showing how to make lamb koftas with a delicious Yeo Valley kerned yoghurt. Award-winning chef, food writer, climate change activist Tom Hunt will be talking about how to eat well and demonstrating how to make "Not Avocado on Toast" – a vegan recipe from his new book: Eating for People, Pleasure and Planet.
And for the little people, they can learn how to make their very own potato puppet and bring it to life in this spud-tacular workshop from Valley Fest veterans: 6FootStories. It's perfect for children aged between four and eight. Additionally, Thatchers are going to be testing everyone's cider knowledge with a brief quiz. It's a packed programme and not to be missed. Remember it's a live broadcast, so only possible to watch it during 6pm – 10pm on August 1st. Keep checking the Valley Fest website for more details.
There will also be a one-time special ticket offer. Adult weekend tickets are £125 plus booking fee. This reduced ticket price will only be available over that weekend. From 3rd August, adult weekend tickets will be on sale for £135. Those that haven't got their tickets yet are advised to act quickly, as so many people rolled their tickets over, there aren't that many left.
Luke Hasell, Festival Founder says: 'Obviously we're absolutely gutted not to be able to be together in person, so we're doing things a little differently this year: the show must go ONline as they say! We've got an incredible line up that we can't wait to share and performances from nearly all of our artists. It's going to be amazing! We hope that everyone will join us for this one-time watch: Valley Fest – on your land."
So gather your friends into your garden or shepherd your family into your kitchen and get ready to turn up the fun for this one-time event!
For interviews and images please contact Melissa@valleyfest.co.uk or 07855 105865