Visit Exmoor. Know Before You Go.
Across Exmoor our businesses are gradually re-opening and are really looking forward to welcoming you! We want visitors to have the best possible experience here on Exmoor and enjoy discovering and exploring this beautiful area. We cannot emphasis enough the importance of checking restrictions and making your plans in advance. Accommodation, eateries, activies and attractions are all adapting and its essential to check and book ahead to avoid dissapointment.

Activities & Attractions
Our Exmoor businesses have been busy putting preparations in place to ensure visitor safely and in some cases this has resulted in limiting numbers for some activities and attractions. There are a number of attractions where booking in advance is essential and pre-purchasing tickets is required.
We recommend popping into see our Exmoor National Park Visitor Centres and local Visitor Information Centres for the most up to date information on all local activites and attractions:
Exmoor National Park Visitor Centre Dunster I Dulverton I Lynmouth
Minehead I Porlock I Combe Martin I Watchet I South Molton
Eating Out
There are lots of fantastic restaurants, pubs, cafes and tea rooms across Exmoor. All are adapting their services to ensure they are covid-19 compliant, and will have processes in place for customer and staff safetly. We recommend checking ahead and making reservations in advance, many eateries have reduced capacity and must be booked ahead. You can find contact information for various eateries on our Eat page.
We have also put together a helpful list of takeaway options, tea rooms with outside seating and retailers where you can pick up mealtime supplies. Please take a look on our Takeaway Services page.
We want visitors to have a fantastic experience here on Exmoor! Please can we ask for your patience and understanding, we are all learning as we go and its important to follow any specific processes and instructions outlined by the businesses. Its for everyones safety. Enjoy your visit!
We're Good To Go
VisitEngland, along with the other tourist organisations of Great Britain and Northern Ireland and the UK government, has launched a new industry standard mark as a way of supporting tourism businesses and providing reassurance to visitors. The industry standard is a way of letting you know which businesses have made necessary changes to their day-to-day workings, including social distancing measures and staff training.
Keep an eye out for the mark when planning your trip online.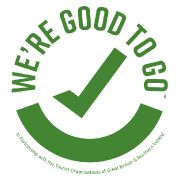 Check out the latest 'Know Before You Go' information from Visit England.