Exmoor 2021 - Book, Plan, Enjoy!
Across Exmoor, the Quantock Hills, West Somerset and North Devon we are all looking ahead to confirmation that we can all responsibly travel with our own households from the 12th April 2021*.
2021 is the year to book ahead! We want you to have the best possible experience here on Exmoor and enjoy discovering and exploring this beautiful area. We have put together a few frequently asked questions and information to help you with your arrangements. We can't wait to see you soon!
Please see the
Government Roadmap
for reference which includes all associated dates and permitted reopening phases.
*Please ensure you follow the latest government guidelines and restrictions.​

Can I book to come to Exmoor?
In short, yes! Across Exmoor, the Quantock Hills, West Somerset, and North Devon we have lots of accommodation options including self-catering, B&B, hotels, glamping, caravan and camping parks. Please make sure you
book your accommodation in advance
, do not travel to Exmoor unless you have a booking.
In line with the recently announced Government Roadmap, self-catering accommodation for a single household will reopen on 12 April 2021 with all remaining accommodation from 17th May 2021.
Will the summer months be busy?
We are expecting the summer holidays to be busy. We want you to have a fantastic and safe time here on Exmoor and have the best possible experience. We have lots of scenic picnic spots across the area which we encourage you to enjoy. They do get busy, particularly during the summer, please do not park on the roads or in any unauthorised places. If the car park is full, the area is at capacity. Please seek an alternative picnic spot. There are lots of locations to enjoy across Exmoor that its easy to find an alternative.
Take a look on our website for information on where to go
.
Will I need to book activities and attractions?
We strongly advise you to book all your activities and attractions ahead. Many businesses are operating at reduced numbers per session so it will be less easy to guarantee spaces on the day. Many attractions are now ticket based so you'll have to order tickets online for a specific time slot ahead of your visit. Please ensure you do your research before you visit Exmoor to avoid any disappointment.
Will I need to make lunch and dinner reservations?
In line with Covid safe practises, restaurants, pubs, and other eateries are likely to be operating at reduced capacities. It is advisable to reserve tables for lunches and evening meals to avoid disappointment. Many tea gardens do not require you to book ahead but it might be worth finding out a good time to call in to ensure you can get a spot.
Food and drink businesses are able to offer outdoor service only from 12th April, with indoor service resuming from 17th May. Take a look at our
Eateries Guide
.
Is there anything I should be aware of when visiting?
It is essential when you are visiting Exmoor you take notice of all the Covid safe measures that have been put in place in our towns and villages. They are there to keep visitors and residents safe. Please take notice of signage and any pavement barriers, giving everyone space to move safely.
When is a good time to visit?
Exmoor is a great destination to visit all year round! Take a look at our
Exmoor All Seasons
pages which show you the highlights of Exmoor throughout the year. The summer offers lots of family friendly activities and adventures on the water. The mild spring and autumn months are a wonderful time for walking and mountain biking here on Exmoor. They are often quieter than the busy summer months and offer a more chilled out, less crowded visit. The crisp winter days are great for cosy foodie getaways!
Visitor Information Centres
We recommend popping into see our Exmoor National Park Visitor Centres and local Visitor Information Centres for the most up to date information on all local activites and attractions:
Exmoor National Park Visitor Centres Dunster I Dulverton I Lynmouth
Tourist Information Centres Minehead I Porlock I Combe Martin I Watchet I South Molton
Accredited Businesses
Look out for The AA Covid-19 Confident, the Quality in Tourism: C-19 Safe-Clean-Legal and the VisitEngland We're Good to Go industry accreditations.
These industry standards are a way of letting you know which businesses have made necessary changes to their day-to-day workings, including social distancing measures and staff training.
Keep an eye out for the marks when planning your trip ahead online.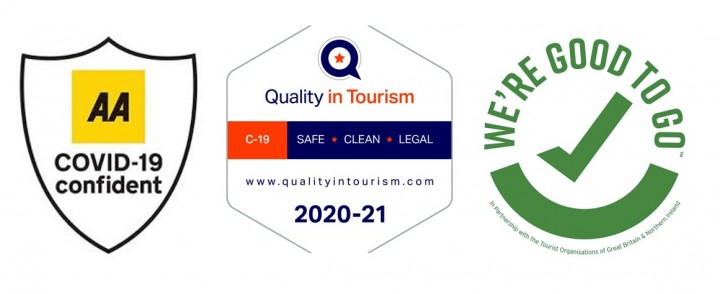 We want visitors to have the best possible experience here on Exmoor and enjoy discovering and exploring this beautiful area. We cannot emphasis enough the importance of checking restrictions and making your plans in advance.
#BookAhead #VisitExmoorSafely #Exmoor2021