Exmoor welcomes you all year
One thing Exmoor is brilliant for is walking, throughout the year. The footpath network is among the best kept of any National Park, with excellent signage and a wonderful variety of scenery. There are lots of walks booklets you can get online or from the local tourist visitor centres, giving great circular walks to follow.
Come in the spring
This is when Exmoor really shines. The variety of wild flowers is a joy to behold. The air is fresh, the days are longer and being outdoors is great. The rivers are usually flowing fast making them very picturesque. The lambs are playfully dashing around. The roads and accommodation are quieter and the moor is tranquil. May is when the walking festival takes place as well as several carnivals, see the events section of the website.
Come in summer
Early summer brings those early morning mists which burn off to give a really lovely clear day, perfect for being outdoors. Take a picnic out, enjoy a safari or join in an activity. Take a dip in the seas, which is now getting warmer.
School holidays begin and Exmoor becomes thriving with so many events happening, carnivals, shows, boat trips, lots to do and enjoy. But up on the moor it is still peaceful.
Come in autumn

The moor is a picture in early autumn when the heathers blooms purple and the gorse blooms bright yellow, all on a dark green backdrop – a real picture. Schools are back and the autumn colours come, although often not until the end of October and into November. The sea is now at its warmest and the area quietens down, perfect for a relaxing break.
Come in winter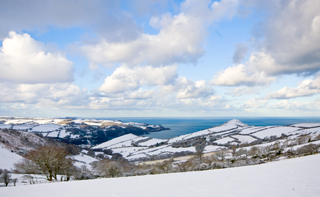 Exmoor can be wonderful in winter. The climate is often quite mild, because the Gulf Stream keeps the sea and air temperature at around 9-11 degrees. Log fires in pubs, Christmas shopping in delightful independent shops offering unique presents. Visit Dulverton by Starlight and Dunster by Candlelight for unique evenings out enjoying a real hog-roast.