Explore Exmoor on the water
Exmoor offers a range of opportunities to get out on the water. With the highest sea cliffs in mainland Britain and one of the most remote and inaccessible coastlines it is often only by taking to the water that you can truly appreciate the scale and drama of Exmoor's Wilderness Coast. Inland opportunities range from the gentle waters of Wimbleball to the raging rivers and streams descending the moors.
With some of the highest tides in the world and rivers running at up to Grade 4+ you should always take to the water with a qualified activity provider unless you are competent and expericned for the condtiions.
Canoeing, Kayaking, windsurfing and Stand Up Paddlebaording on Exmoor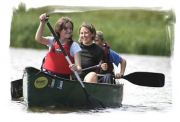 Canoeing on Exmoor has long been a popular activity with a good choice of rivers, lakes and spectacular coastline. More recently Stand Up Paddleboardinghas grown in popularity.
For the more adventurous the rivers of the Barle, Exe and East Lyn offer whitewater opportunities, in addition to coastal adventures. These are not for faint hearted and unless you;re an experienced paddler check out
Channel Adventure
and
Exmoor Adventures
.
Windsurfing is also aivable at Wimbleball or along the coast for experienced surfers.
Coasteering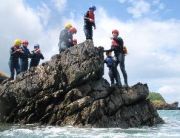 With one of the most dramatic and inaccessible coastlines around coasteering on Exmoor is an experience not to be missed. It is one of the best (and only!) ways of getting up close and personal with the coast. It is essential it is only undertaken with the advice of a qualified instructor, such as Channel Adventures and Exmoor Adventures.
Not for the fainthearted you will scramble over rocks, traverse cliff faces and plunge from heights above into the sea below. You will be able to swim into caves and enjoy fantastic views of the country's highest coastline as well as having the opportunity to see some of the area's marine wildlife.
Sailing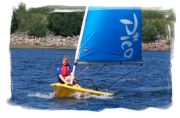 Sailing is a sport that can be enjoyed by just about anyone, young and old. What's more it doesn't have to be expensive and there are usually plenty of keen sailors ready to give you advice on how to get started.
Sailing generally falls into two categories, dinghy sailing (small boats) and yachting (big boats!).
You can hire dinghies at Wimbleball Lake, for this you will generally need a RYA (Royal Yachting Association) Level 2, Basic Skills qualification. Alternatively why not get some instruction? Qualified staff are on hand to show you the ropes and get you afloat. Courses are also available on a regular basis.
For experienced skippers there are harbours for yachts at Ilifraconbe, Lynmouth, Porlock Weir, Minehead and Watchet.
Surfing
You are never far from the waves on Exmoor. Lynmouth offers a superb break for experienced surfers under the right conditions offering a long left handed point break. When conditions are optimum it can get busy and has hosted pro surf events such as the Relentless Super Series.
The renowned surf beaches of north Devon such as Saunton Sands, Croyde and Woolacombe are all nearby offering a great experience for seasoned surfers and beginners alike with many opportunities to hire tuition and equipment if needed.
Wild Swimming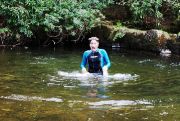 You're never far from water on Exmoor and this provides a great opportunity for a refreshing wild swim under the skies of Exmoor. Inland many of Exmoor's rivers provide sheltered pools which are ideal for wild swimming, or along the coast the various beaches offer sea swimming opportunities.
Take a look at the Outdoor Swimming Society's
interactive map
for their suggested locations.
You should always make sure that you have the landowners permission and that it is safe to swim at a given location.
Rowing
There are four active rowing clubs in the area with Porlock weir Gig Club, Minehead Watersports Centre and Watchet Sea Rowing Club covering the coast and Wimbleball Rowing Club operating from the lake.
If you just fancy a casual row around the lake you can hire a traditional wooden rowing boat from the watersports centre by the hour and even try your hand a fly fishing at the same time if you like! For the more serious rower racing boats are also available.