12 Nature Secrets in Somerset and Exmoor
Secrets 39-50 of the 50 secrets in Secret Somerset and Exmoor
DOWNLOAD our new suggested Nature Itinerary, which gives you suggestions for two 'Secret' days out ideas in Somerset & Exmoor.
Discover the Secrets Home Page with downloadable tools, the interactive map, and three other themed secrets pages: Active Secrets 1-13, Culture Secrets 14-25, Heritage Secrets 26-38.
39. Historic packhorse bridges, great for Pooh sticks: Malmsmead and others
40. Home of the 'Frankenstein' scientist, Fyne Court
41. Wimbleball Lake in Europe's first International dark sky reserve
42. World Bolving Championships near Dulverton
43. Burnham-on-Sea lighthouse, one of the world's most iconic
44. Digital interactive Family Story Walks, Horner Woods and others
45. Somerset's own Jurassic Coast, Kilve to Blue Anchor
46. Secret​ive​ booming bitterns at Ham Wall
47. One of the largest​'s​ new wetlands in UK at Steart
48. Tallest trees in England at Nutcombe Bottom, Dunster
49. Lakeside nature and wildflower trail at Otterhead Lakes , near Taunton
50. Wildlife and history: one of the largest hill forts,​ Ham Hill
---
39. Seek out Somerset's historic packhorse bridges just perfect for pooh sticks!
Star Location: Malmsmead EX35 6NU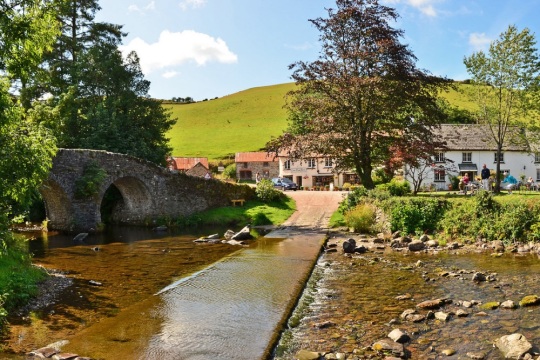 Along with North Yorkshire and Cumbria, Somerset has the most medieval packhorse bridges in the country. A packhorse bridge was designed to carry a horse with a heavy load across a river and stream, and make a great location for a game of pooh sticks! Try visiting picturesque Malmsmead, Robber's Bridge near Oare (part of the Lorna Doone story), Gallox Bridge in Dunster with its great children's play park nearby, or the suitably named Bow bridge in Bruton. Other bridges exist at Allerford, Charterhouse, Chew Stoke, Chewton Keynsham, Dowlish Wake, Illchester, Horner, West Luccombe, Queen Camel, Rode, Tellisford, Watchet, Wellow and three in Winsford!
Did you know? The formula for playing Poohsticks is PP = A x I x Cd where PP is Perfect Poohsticks, A is cross sectional area, I is density of the stick and Cd is the drag coefficient!
Access: Malmsmead is on the West Somerset border with North Devon in Exmoor National Park. Take the A39 coast road to Lynton and follow signs to Oare and Malmsmead. There is a car park, toilet and café. Doone Valley Camping is close by.
Image: Malmsmead Bridge with tea rooms open in the summer, image supplied by Exmoor National Park Authority
Links: Malmsmead, Gallox Bridge, Somerset Packhorse Bridges
---
40. Breathe life into the origins of the Frankenstein story
Star Location: Fyne Court TA5 2EQ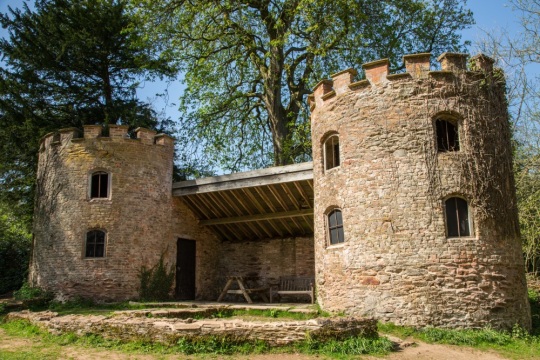 Fyne court was the home of the Crosse family who lived here until the house was destroyed by fire in 1894. Andrew Crosse was an amateur scientist whose experiments at Fyne Court are suggested to embody Mary Shelley's Frankenstein. Discover how the fire started and find out where the house used to stand on one of the National Trust's eye opener tours. You can also explore the wild garden, looking out for the boathouse and folly.
Did you know? Sir Humphry Davy visited Fyne Court and the poet Shelley attended one of Crosse's lectures.
Access: Fyne Court is in Broomfield in the Quantock Hills AONB. From Taunton either head out to Kingston St Mary or Bishops Lydeard and Cothelstone. Follow signs to Fyne Court where there is a car park, café and toilets.
Image: Discover the Folly at Fyne Court, picture taken by Jim Elliot of the National Trust
Links: Fyne Court
---
41. Star gaze in Exmoor, Europe's first international Dark Sky Reserve
Star Location: Wimbleball Lake, near Dulverton TA22 9NU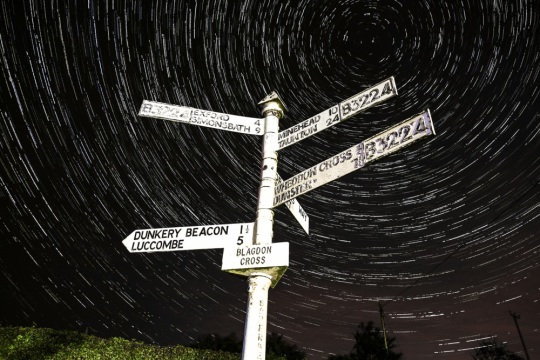 Why not dine under the stars this summer? Take a picnic to an intimate spot on Exmoor National Park, Europe's first International Dark Sky Reserve. The low light pollution makes it the perfect spot for a great view of the stars. Look up and rediscover your sense of wonder, on a clear night the sky is stunning when many astronomical sights can be seen through the naked eye, or you can hire a telescope from the Exmoor National Park centres to see even more! One great location is Wimbleball Lake, as not only are the stars good, but there are water sport activities and a campsite. Every summer Exmoor National Park Authority organises a Big Adventure Camp Out from here.
Did you know? Thousands of more stars can be seen in the night sky from Exmoor than in most towns and cities around the world.
Access: There are two good access points for Wimbleball Lake. One is on the southern side at Haddon Hill. The car park is on the B3190 between Upton and Morebath. On the western side of the lake is the main activity and camping centre. This is accessed via Brompton Regis, which a short drive from Dulverton. Check out the excellent pdf leaflet from the National Park Authority.
Image: Exmoor's Dark skies by Adrian Cubitt taken for Exmoor National Park Authority
Links: Exmoor Stargazing leaflet, Big Adventure Camp Out, Stargazing on Exmoor
---
42. Be bold and bellow like the stags of Exmoor
Star Location: Draydon Rails, near Dulverton TA22 9EX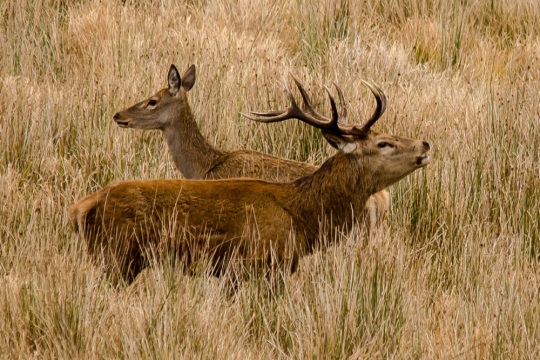 Bolving is the name for the calls that Red Deer stags make in the rutting season in October. The bolvers try to imitate the deer, and get points for style, authenticity and how successful they are at getting a real stag to answer their roar. Take part or spectate! It takes place at Draydon Rails, hosted by the Rock House Inn at Dulverton. Red Deer have survived on Exmoor since pre-historic times and if you're quiet can be seen in a variety of places across the area. The rutting season provides the possibility of seeing two male Red Deer locking antlers to win rutting rights with the Hinds. One option for seeing Red Deer comes from joining a professional guided walk with the National Park or a guided Safari tour. Venison is a common local delicacy in many pubs, restaurants and butchers across the area.
Did you know? Red deer are the largest wild land animals in the UK and there are about 3000 on Exmoor
Access: Entries for the world bolving championships is a minimum donation of £2, with all money raised goes to the Devon Air Ambulance Trust. You can find out more about Red Deer the Dulverton, Dunster and Lynmouth National Park Centres, and the main website. Dulverton is located in the southern part of Exmoor, just off the A396.
Image: Red Stag calling during the Rutting season, image by Nigel Stone of Exmoor National Park Authority
Links: World Championships, Red Deer
---
43. Stalk the lighthouse on legs for a spectacular selfie
Star Location: Burnham-on-Sea TA8 1BU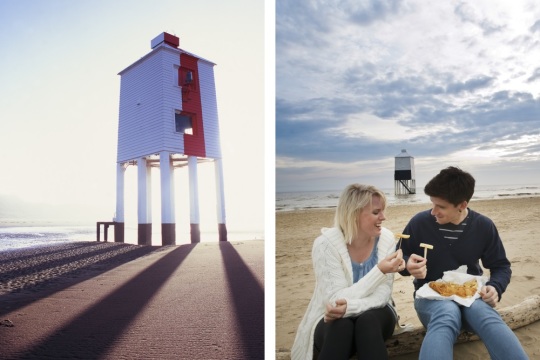 The Burnham-on-Sea Low Lighthouse was voted one of the top 10 most beautiful lighthouses in the world not so long ago by the Huffington Post. It is 36 feet high, and was built by Joseph Nelson in 1832, in conjunction with the High Lighthouse to replace the original Round Tower Lighthouse. It is now the only active lighthouse in Somerset and still aids vessels at sea. The striking structure is whitewashed with a vertical red stripe on the sea side and makes for beautiful photographs for those who visit.
Did you know? A fisherman's wife was the first person to think of using a warning light in Burnham which looks out on the Bristol Channel with the second highest tidal range in the world
Access: Access is either via a walk from one of the car parks on the northern side of Burnham-on-Sea, or by driving towards Berrow on the Berrow Road and find off road parking close to the beach.
Image: Close up of lighthouse from Somerset Image Library, and couple eating chips in front of lighthouse by Colin Hawkins for Visit Somerset
Links: Burnham-on-Sea Lighthouse, Huffington Post 10 most beautiful Lighthouses
---
44. Discover hidden stories with digitally interactive family story walks
Star Location: Horner TA24 8HY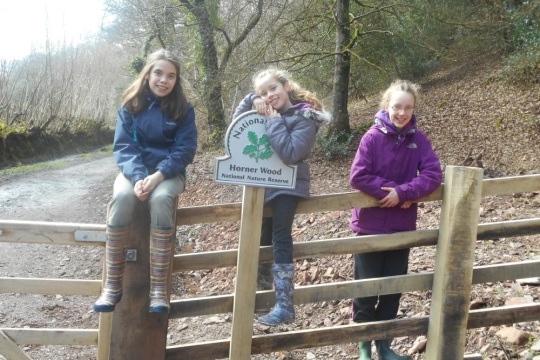 Place in your device (mobile phone, iPad), journey to the start, then read out loud to friends and family. The story will reveal each new location after every chapter, eventually finishing by a secret hidden journal for you to sign and then replace. Each story is different, location dependant, and interactive, asking you to make things on the way as part of the tale. Following your visit to Horner, drive up to Webbers Post and up over Dunkery Beacon, the highest point on Exmoor. There are plenty of stunning views looking down into Dunkery and Horner Woods, which is a National Nature Reserve.
Did you know? 12 other story walk trails exist in Dunster, Dulverton, Minehead, Holford, Porlock Weir and Nutcombe Bottom, plus dozens of smaller trails developed by school children in Stogumber, Crowcombe and Frome.
Access: Horner can be reached by taking the A39 road from Minehead. Following the sharp bend and right hand turn for Allerford and Bossington, the turn for Horner is just another 500m or so around the bend. Horner is signposted with West Luccombe. Follow the road over a small bridge and past a campsite on the right, turning left into the pay and display car park. There are toilets here and two tea rooms to choose from.
Image: Children starting a walk at Horner, image from John Carter for Visit Somerset
Links: Exmoor Story Walks, Minehead Story Walks, Exmoor Big Adventures
---
45. Fossick for fantastic fossils among Jurassic and Triassic rocks
Star Location: Kilve TA5 1EG
With its Jurassic and Triassic rocks, West Somerset's smaller and less well-known bays are a real treasure trove for fossil fiends. Try to visit on a falling tide and, if possible, after a scouring tide where powerful waves stir up the sand and gravel and new fossil material is freshly uncovered. You can even see an under floor Plesiosaur at the Museum of Somerset, and search to see if you can find more fossils at Kilve, East Quantoxhead, St. Audries Bay or Watchet. Some of these bays are also perfect for rock pooling and kite flying. Take a picnic on a nice day.
Did you know? The 1.5m long fossil of a Plesiosaur was discovered by a local fisherman at Bridgwater bay National Nature Reserve.
Access: Kilve lies on the A39 between Bridgwater and Williton. After passing Nether Stowey and Holford you will come to the small village of Kilve. It has a pub and shop. Take the road that runs down past the shop, past the church, where you will eventually come to a pay and display car park. There are toilet facilities and a tea-room here.
Image: Fossil at Kilve, image by Neville Stannikk for Visit Exmoor
Links: UK Fossils, Kilve
---
46. Listen out for the secretive bittern literally booming here
Star Location: RSPB Ham Wall BA6 9SX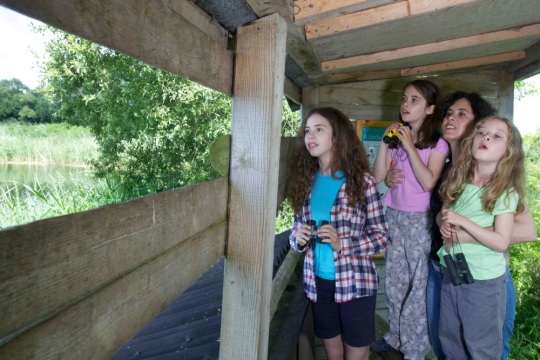 Listen to the Bitterns 'boom' from the hide at Ham Wall which has the highest number of Bitterns in the UK. The rare birds are excellent at camouflage and were almost extinct before the conservation success story at Ham Wall. You can spot the bitterns best in the spring time. Ham Wall is a newly created wetland with reed beds in disused peat pits which provides a safe home for many rare species, and is part of the Avalon Marshes which have been described as the best place for wildlife in Britain.
Did you know? This heron-like bird was extinct in the UK by the end of the 19th century but numbers are rising with 140 'booming' males counted in 2014.
Access: RSPB Ham Wall is south west of Wells and north east of Street. From Street take the A39 to Bridgwater and turn right at Ashcott. Free parking and toilets are available.
Image: Family watching birds at a Ham Wall hide, image by James Walker for Visit Exmoor and Visit Somerset
Links: Ham Wall
---
47. A wild, wetland landscape helping people and wildlife adapt to climate change
Star Location: Steart, near Cannington TA5 2PU
Rising sea levels are putting the squeeze on our coast, so the Wildfowl and Wetlands Trust and the Environment Agency have created Steart Marshes – one of the UK's largest new wetland reserves. Hundreds of hectares of saltmarsh and freshwater wetlands buffer homes and businesses from rising sea levels, and provide habitat for a rich mix of wetland wildlife including otters, egrets, owls waders and wildfowl.
Did you know? Bay salt marshes are one of the most biologically productive habitats on earth, rivalling tropical rainforests.
Access: Access to Steart is from the A39 at Cannington. Drive out through Combwich and Otterhampton. The main car park is fully open every day (apart from bank holidays) 9am – 4.30pm. Check the website for details and the downloadable pdf leaflet.
Image: Sunset at Steart, image supplied by the Wildfowl and Wetlands Trust
Links: Map leaflet of Steart, Steart Wildfowl and Wetlands Trust
---
48. Discover the tallest trees in England
Star Location: Nutcombe Bottom, near Dunster TA24 6TA
To find some of the oldest and rarest trees in Britain, start at Nutcombe Car Park and follow the trail at the bottom of the car park (north) to Broadwood Road. Follow Broadwood Road up to the right and turn immediately left into new Blue badge holders' car park. The trail runs for 600m, to where it loops back on itself. Our favourite points of interest are the Tallest Tree in England - a 60.05m tall Douglas-fir planted in the 1870s, the tallest magnolia in England (24m) and other exotic arboretum trees.
Did you know? The Douglas-fir gets its name from the botanist David Douglas who was the first to grow it successfully in England.
Access: To get to Nutcombe Bottom drive through the village of Dunster on the A396 towards Timberscombe and Wheddon Cross. The left hand turn for Nutcombe Bottom is signposted about 0.5 miles from Dunster. Follow it round to the right until you reach the car park. Visit the website to download the Tall Trees Trail map, quiz and Dunster Forest Bingo!
Image: Crown Estate image of children walking the Tall Trees Trail
Links: Dunster Crown Estate Tall Trees Trail
---
49. Treasure the tranquillity of trout filled lakes surrounded by flowers
Star Location: Otterhead Lakes, near Otterford TA3 7EE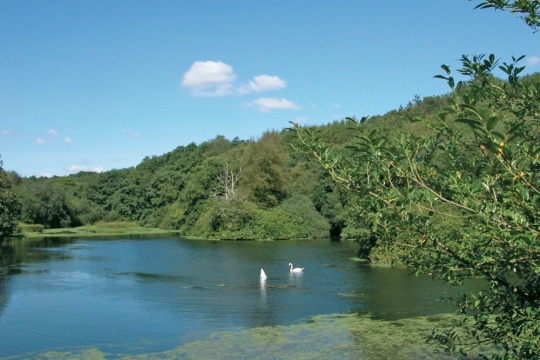 Otterhead Lakes are a pair of reservoirs in the Blackdown Hills Area of Outstanding Natural Beauty south of Otterford. The lakes are the centrepiece of the one mile long Otterhead Local Nature Reserve which includes dry woodland which has a ground flora including common bluebell, dogs mercury and twayblade. Follow the nature trail available from the Taunton Deane Borough Council website.
Did you know? Dormice can be found in the reserve.
Access: Otterhead Lakes are south of Taunton at Otterford in the Blakdown Hills AONB. Take the B3170 all the way from Taunton and follow signs for Otterford. There is a car park available at the nature reserve. Wheelchair access on well surfaced path to lakes.
Image: Otterhead Lakes, near Otterford, image taken by John Carter for Visit Somerset
Links: Visitor Information, Otterhead Estate
---
50. Admire the home of rare wildlife, wonderful views and Iron Age soldiers
Star Location: Stoke-sub-Hambden TA14 6RW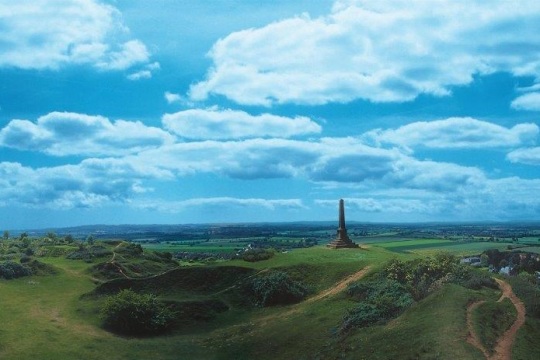 Ham Hill has it all! As a geological site of special scientific interest it has plenty of history and wildlife to explore. Discover the Roman and Iron Age history and heritage, rare and exciting wildlife, trails for cyclists, riders and walkers plus stunning views. Make sure to visit the Stone Circle, built by the Millennium Project to commemorate the centuries of quarrying on Ham Hill and the stonemasons that worked here. The fifteen stones are all made of the local "hamstone".
Did you know? The Houses of Parliament are fronted with Hamstone.
Access: Ham Hill Country park is situated a short drive from the A303 and A3088 close to Stoke-sub-Hamden. Follow signs out to the hill, drive up and past the parking area up onto the hill until you come to a car park with stunning views.
Image: Ham Hill Country Park, provided by Discover South Somerset
Links: Ham Hill Country Park
---