12 Culture Secrets in Somerset and Exmoor
Secrets 14-25 of the 50 secrets in Secret Somerset and Exmoor
DOWNLOAD our new suggested Culture Itinerary, which gives you suggestions for two 'Secret' days out ideas in Somerset & Exmoor.
Discover the Secrets Home Page with downloadable tools, the interactive map, and three other themed secrets pages:Active Secrets 1-13, Heritage Secrets 26-38, Nature Secrets 39-50.
14. World's greatest collection of vintage plastics at Bakelite Museum, Williton
15. Cathedral woven from willow in Longrun Meadow, Taunton
16. World class gallery Hauser & Wirth Gallery, Bruton
17. Traditionally Smoked eel at Brown and Forrest, Langport
18. Top class locally farmed Oysters at Porlock Weir
19. The home of Romantic poetry , Coleridge Cottage in Nether Stowey
20. Magical St. Agnes Well, Cothelstone
21. Super sandcastles at The Weston-super-Mare Sand Festival
22. Brand new Samphire Music Festival, Porlock
23. Secret Gardens in Kilver Court, Shepton Mallet
24. Quirky exhibitions in shipping containers Contains Art, Watchet
25. The Roxy, one of the smallest cinemas in England, Axbridge
---
14. Be amazed by the world's greatest collection of Bakelite
Star Location: Bakelite Museum, WIlliton TA4 4NS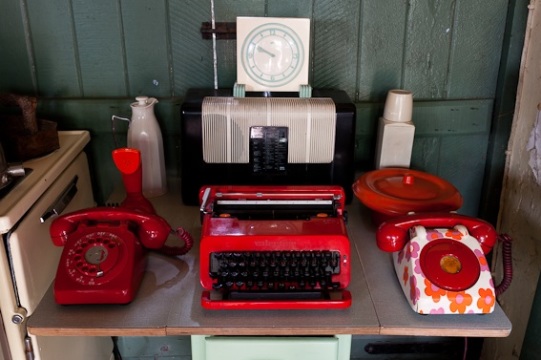 The world-famous Bakelite Museum is a unique collection of ordinary and extraordinary objects from the Swinging Sixties to the Naughty Nineties all housed in an 18th Century Watermill. It includes thousands of items that were used in homes and workplaces throughout the country from the early 1900s onwards - things made of Bakelite and other early plastics in fabulous colours and patterns - all part of everyday life in the Bakelite era. From a Bakelite car to a caravan in the shape of an egg there are plenty of Bakelite wonders to feast your eyes on.
Did you know? Bakelite is actually polyoxybenzylmethylenglycolanhydride!
Access: Head to Williton and take the A39 towards Minehead. As you leave Williton turn left into bridge Street. The museum is signposted from here. Follow the road round to the right past Saint Peters Church. See website for museum prices and opening times.
Image: Display of Bakelite typewriter and telephones, image supplied by Bakelite museum
Links: Bakelite Museum
---
15. Wonder at the way willow is woven into a cathedral
Star Location: Longrun Meadows, Taunton TA1 5AU

The willow 'cathedral' in Longrun Meadows, Taunton – which can be used for gatherings from picnics to family fun, performances and celebrations – officially opened in 2011. The sculpture, made from living willow that has greened up over time, was designed and created by Somerset-based Stefan Jennings and Sophie Courtiour. Take a look at some of the other great willow structures of Somerset including the iconic Willow man. Visit the Willow and wetland centre in Stoke St Gregory or Musgrove Willows in Westonzoyland to find out more about willow!
Did you know? In English folklore, a willow tree is believed to be quite sinister, capable of uprooting itself and stalking travellers
Access: Longrun Meadow sits in the centre of Taunton off the A38 - behind The 1610 Castle School Sports Centre and Somerset College of Technology, and to the north west of the Tesco superstore. Access is also possible from French Weir by walking over the river.
Image: Willow Cathedral in Longrun Meadow, Taunton
Links: Willow Cathedral Facebook Page
---
16. Experience art, architecture and landscape in one world-class gallery
Star Location: Hauser & Wirth Gallery, Bruton BA10 0NL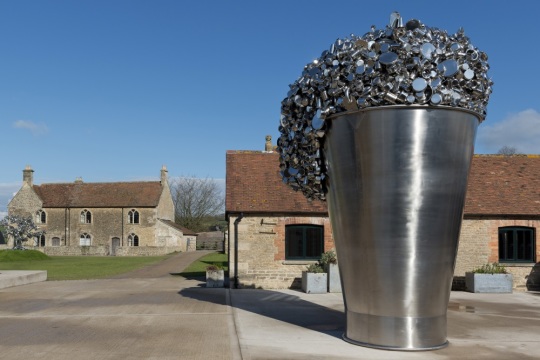 Centred on a core belief in conservation, education and sustainability, Hauser & Wirth Somerset offers a wide variety of special events including talks, seminars, workshops and screenings. Head here for a culture-filled day out in beautiful surroundings, finished off with a delicious bite to eat at the on-site restaurant, the Roth Bar & Grill.
Did you know? Somerset Arts Week organised annually in the Autumn by Somerset Art Works showcasing artists work across the County.
Access: The gallery is sited on the B3081 just outside Bruton. Designated mobility parking is available in the main car park and there is a drop-off point . All public areas are accessible for wheelchairs users. There are two wheelchairs and a six-seater electric buggy service from the car park to house. Please phone ahead to ensure this service is running on the day of your visit. Please visit the website for opening times.
Image: External shot of sculpture, image supplied by Hauser and Wirth Gallery
Links: Hauser & Wirth Gallery
---
17. Sample traditionally smoked food such as a Somerset favourite – eel
Star Location: Brown & Forrest Smokery and Restaurant, Hambridge TA10 0BP
Brown and Forrest is a small family run smokery, started 31 years ago in Somerset which has a tradition for eating eel. The smokery uses traditional methods to produce the finest smoked eel and salmon as well as a whole range of delicious smoked foods including chicken, duck, lamb and trout. They stock over forty products in their shop which is attached to the award winning restaurant.
Did you know? The life span of an eel is about 85 years!
Access: Access is via the B3168 on the road from Hambridge to Curry Rivel. Parking is available right outside. Please see the website for opening times.
Image: Smoked eels fresh from the smokery, image from Visit Somerset library
Links: Brown & Forrest
---
18. Try fresh oysters farmed here for the first time in 120 years
Star Location: Porlock Weir TA24 8PB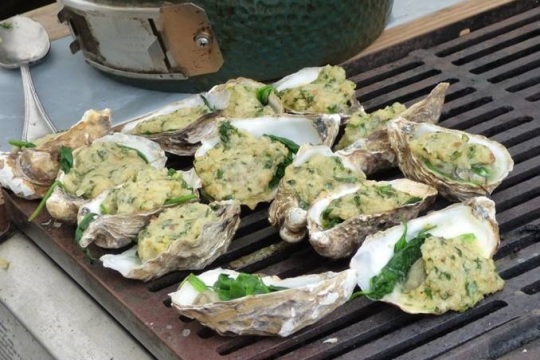 A community project started up in Porlock in 2013 to revive the historic traditions of growing and selling shellfish. In particular, Oysters. A Community Interest Company was set up called Porlock Futures, and following a number of fundraising projects, are now set to officially launch the production of Porlock Bay Oysters in May. Needless to say many restaurants, pubs, cafes and local supermarkets are lining up to sell the oysters.
Did you know? Porlock is the only site in England and Wales to have the top A classification for Pacific Oysters.
Access: Visit the website to find out more about the heritage of Oyster production in Porlock Weir and details of the launch in May. The website also lists those pubs and restaurants that are looking to stock the Oysters. You can also pick up recipes and find out where to order from.
Image: Porlock Bay Oysters, image by Corinne Matthews for Visit Exmoor
Links: Porlock Bay Oysters
---
19. Romance the spirit by sharing the space that inspired Coleridge
Star Location: Coleridge Cottage, Nether Stowey TA5 1NQ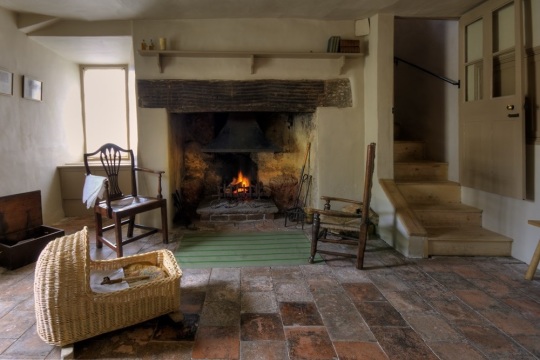 Visit the home of one of our most famous romantic poets, Samuel Taylor Coleridge. He lived for three years in Nether Stowey, during which time he wrote most of his famous works. Together with his friend William Wordsworth (who lived for a time close by at Alfoxton Park) they walked and took inspiration from Exmoor and the Quantock Hills. The 'Rime of the Ancient Mariner' was inspired by a visit to Watchet. Kubla Khan is said to have been inspired by Cheddar Gorge. Today visitors can visit the cottage or walk part or all of the 51 mile Coleridge Way between Nether Stowey and Lynton.
Did you know? The remains of a Norman motte-and-bailey castle can be found at the top of Castle Street in Nether Stowey.
Access: The Cottage is situated on Lime Street, just off the A39 in Nether Stowey - between Bridgwater and Williton. Public car parks and some on road parking exists nearby. The cottage is unsuitable for wheelchairs due to steps and small rooms. The 51 mile Coleridge Way trail starts at the cottage and winds up to Castle Hill, where you will find evidence of Nether Stowey Castle.
Image: Inside Coleridge Cottage, image supplied by the National Trust
Links: Coleridge Cottage
---
20. Draw close to the ancient well that fed fantasy and folklore
Star Location: St. Agnes Well, near Cothelstone in Quantock Hills TA4 3DS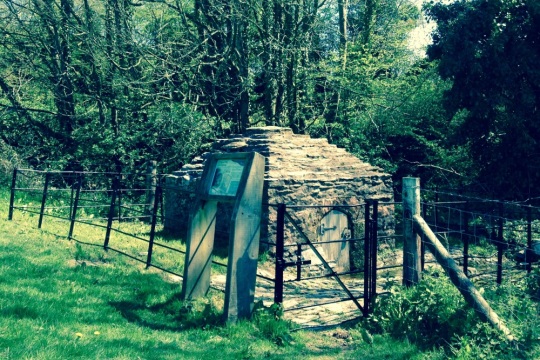 St Agnes' Well is a Grade II* Well house dating from the Medieval period and restored in the nineteenth century. It has a varied folklore, noted as being a healing well, a wishing well of considerable power, an aid to fertility, and virgins used divinations to 'discover' their future husbands on the eve of St Agnes's feast day. Henrietta, the wife of King Charles I, was rumoured to have wished for a child there, and became pregnant soon after. The Chalice Well in Glastonbury is one of Britain's oldest and there are famous wells at Wells & Watchet.
Did you know? The City of Wells is named after the springs that well up there including some in the Bishop's Palace so powerful you can see them moving sediment.
Access: St. Agnes Well is slightly difficult to find. It is sited on private land, but the land owners permit access to the well. English Heritage describe the well as being 250 metres north-east of Cothelstone Manor Gateway. Access is via a small iron gate on the side of the road. Pass through the gate, cross a stream and turning right you will see the well. An interpretation panel and various websites provide further information.
Image: St. Agnes Well at Cothelstone in Quantock Hills, image supplied by South West Heritage Trust
Links: Well Obsessed, The Megalithic Portal, English Heritage Monument Listing pdf
---
21. See how imagination is set free with the skills of sand sculpture
Star Location: Sand Sculpture Festival on Weston-Super-Mare seafront, near Seaquarium BS23 1BE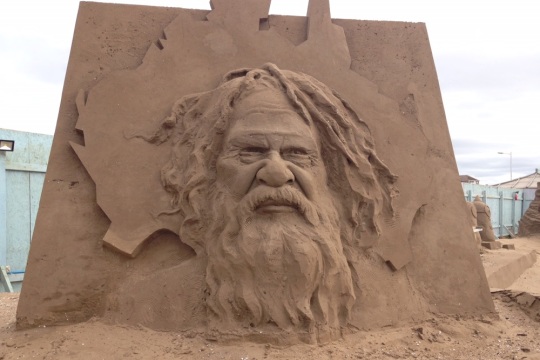 The Weston-super-Mare Sand Festival is one of the best in the country, and takes place every Spring/Summer. Somerset really is the home of modern art sculpting. Artist Simon Beck regularly creates master pieces at Burnham-on-Sea. The Somerset coast from Weston to Minehead has some wonderful stretches of sand perfect for sculpting and castle building. Check out the festival and Simon Beck's Facebook page for new pieces of Art.
Did you know? Sand sculpture is an art form which was already used by the Egyptians in 4000 BC.
Access: The Sand festival is located next to the Seaquarium on Weston-super-Mare sea front. Use the local public car parks or on-street parking. Check the website for opening times and prices.
Image: Australian sand sculpture at West Sand Festival, image by Vicky Banham for Visit Somerset
Links: Sand Sculpture Festival
---
22. Rock to the crowd-funded success that is Samphire Music Festival
Star Location: In the area of Porlock TA24 8QH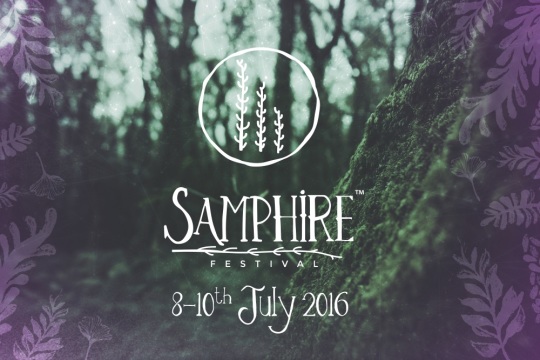 A brand new music festival will take place in a beautiful coastal location within Exmoor National Park this year. The festival broke the record for the fastest ever 'crowdfunded' festival. This family-friendly festival will see over 30 different live acts with music from folk, funk, house, techno, ska, reggae, afrobeat, pop, indie, jazz and disco.
Did you know? Tickets for the first Glastonbury Festival were £1 including milk! The headline act the Kinks failed to show so T Rex stood in.
Access: Adult tickets from £85 are being sold now from the eventcube web page. Children under 13 go free. More information on Facebook and crowd funder, including a video.
Image: Samphire Music festival social media graphic supplied by Festival team
Links: Festival on Facebook, Crowd Funder page, Event Cube for tickets
---
23. Uncover a secret garden with an industrial past
Star Location: Kilver Court, near Shepton Mallet BA4 5NF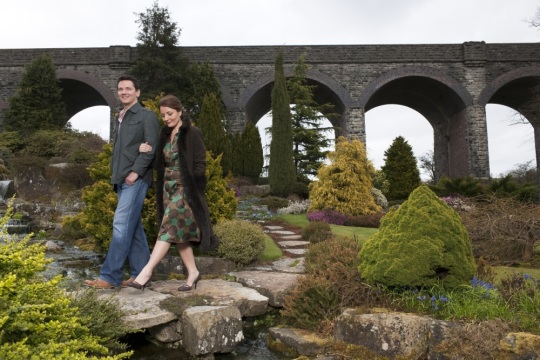 Explore the many stunning secret gardens hidden in the heart of Somerset. Kilver Court was created over 100 years ago by Ernest Jardine, a progressive industrialist, who wanted to give his workforce inspirational working conditions. Wander through the rockeries, millpond and herbaceous borders for a truly peaceful day out. Nature lovers can discover more hidden gardens at Hestercombe gardens and East Lambrook.
Did you know? The Charlton Viaduct which forms a backdrop to the gardens has 27 arches and is 300 metres long.
Access: Kilver court is situated on the A37, just outside Shepton Mallet. The gardens are open all year round. Car parking is free, and adult tickets are £5. Please see website for opening times and other ticket prices.
Image: Couple walking in Kilver Court Secret Garden by Colin Hawkins for Visit Somerset
Links: Kilver Court
---
24. Enjoy the best local art in converted shipping containers!
Star Location: Contains Art, Watchet TA23 0AQ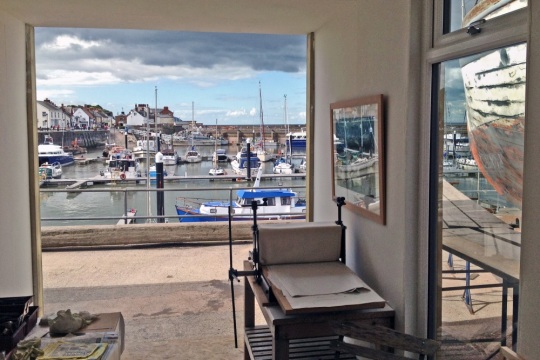 Contains Art is an arts venue on the quayside in Watchet, a small harbour town on the coast of West Somerset. It opened on 7th July 2013, following months of planning and a final five weeks of hard work, by a largely volunteer workforce, to convert three shipping containers into a smart gallery space and four bright, comfortable working studios.
Did you know? Old shipping containers were also used to create hides at Somerset's new wetland reserve, Steart Marshes. Elsewhere they've been used for a school, home, hospital and even a swimming pool.
Access: Contains Art is situated on the East Quay in Watchet. There are a number of public car parks with toilets.
Image: View from inside Contains Art on Watchet Harbour, image from Onion Collective
Links: Contains Art
---
25. Revel in the atmosphere of one of the smallest cinemas
Star Location: Roxy Cinema, 36 High Street, Axbridge BS26 2AF
A £5,000 appeal has been launched to save a tiny 32-seat cinema in Somerset. The Roxy, housed in a pub in Axbridge, needs help to upgrade or replace sound and projection equipment and carry out major refurbishment works. A campaign called 'Rescue the Roxy' has now been launched with chairperson, Juliet Maclay saying the venue is "an open door for the community." The cinema has been going nine years and is thought to be one of the UK's smallest working cinemas.
Did you know? Axbridge was an important cloth centre in Tudor times when it was granted a Royal Charter and even had its own mint.
Access: The cinema is situated in Axbridge, at number 36, High Street. Car parking is available nearby.
Image: The Box office at the Roxy Cinema, image supplied by Roxy Cinema
Links: Roxy Cinema
---