When information is received about the walking route, this page will tell you of diversions and updates along the Coleridge Way.
November 2017
New Coleridge Way signs have just sprung up in Nether Stowey on Castle Street and Castle Hill to guide walkers on their way.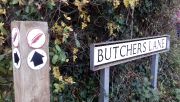 June 2017
Please be aware that Public Bridleway WL18/39 & WL16/14, Nettlecombe are closed for closed for 21 days from Monday 19th June 2017 due to a forestry works. There is an alternative route available on this closure and this will be signed for Coleridge Way users. Further info at https://goo.gl/ZxBHwY
June 2017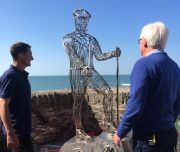 BBC Countryfile's John Craven unveiled an iconic new statue "The Walker" on The Esplanade in Lynmouth at the western end of the route, on Monday 8 May (broadcast on BBC1 Countryfile Diaries on the 2 June).
Commissioned to mark the end of The Coleridge Way long-distance walking route, "The Walker" also indicates the closing stage of The Two Moors Way, as well as pinpointing where both these walks intersect with the South West Coast Path; the UK's longest national trail as well as the Tarka trail.
Designed and constructed by local craftsman Richard Graham, the statue is made from reinforced 8mm marine quality stainless steel wire and shows a larger-than-life walker stretching out his hand in greeting.
March 2017
Update on the closure of the footpath at Watersmeet, mentioned below.
The path is now reinstated and open to walkers.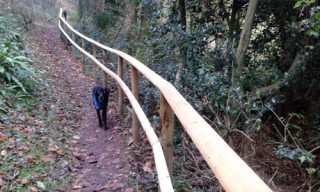 December 2016
Recent improvements to the path at Watery Lane just outside Nether Stowey include a nice new wooden rail above the stream.
26th September 2016
The footpath around Watersmeet, alongside the East Lyn River will be closed from the above date for up to 6 months. This is for major repair work. The accompanying map shows the closed section in red and the alternative routes you can take to avoid this. On reaching Ash Bridge, cross the bridge and follow the footpath alongside the other side of the river. Pass the lime kilns close to Watersmeet, then at Watersmeet cross the footbridge over the Hoar Oak Water, bearing right to continue alongside the East Lyn River, picking up the original path at Chiselcombe Bridge.
Map of closure