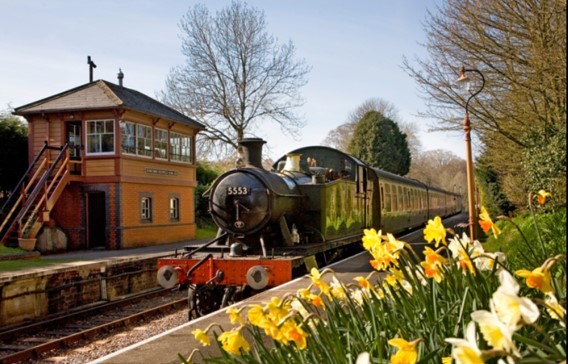 9th June 2020 - West Somerset Railway Appeal Update
After its launch in mid-March when the steam operated West Somerset Railway (WSR) was forced to close before the 2020 season had even started, the WSR's emergency Coronavirus funding appearl has raised £138,098 to date (9th June update). The WSRA Rail Renewal 2020 donations total is now standing at £30,289. PLUS the WSSRT appeal now stands at £2,276.
The WSR is aiming to try and reach £500,000 as the target figure it estimates is the amount that it's going to need to combat the loss of income during Covid 19, so is doing well at just under 34% of this target.
WSR plc Chairman Jon Jones-Pratt said:
"The West Somerset Railway is deeply indebted to all those wonderful people and supporters who have given their hard-earned cash to us already at an unbelievably hard time for us all, and especially those making repeat donations to us too. It's all been simply brilliant and very humbling to know that we have such strong support and people are confident in what we are doing for the good of the railway.
"With help from our support groups, we're now a quarter of the way there in raising our survival bid appeal total of £500,000, so we have to just keep going in trying to generate money from donations and maintaining interest in what we're doing and what's potentially at risk if we don't hit our targets. We still have no idea when the railway might re-open, and the longer this crisis continues then the worse it will be of course.
"To try and help promote the appeals, I have just done a short, three-minute video which was launched last weekend on Saturday 16th May. It was produced quickly in-house to save costs and time so it's not a professional production deliberately, but it tells people what our appeals are all about and why they are needed. You can see it online here.
"One way that people can help the railway even more is if they donate cash via Gift Aid to either of our charitable support organisations, the West Somerset Railway Association (WSRA) and the West Somerset Steam Railway Trust (WSSRT).
"Gift Aided donations from UK tax payers to registered charities give another 25% on top of your donation, and at no extra cost, as the Government allow charities to reclaim the tax element if a simple form is completed that's available on-line from the WSRA and WSSRT websites. So, this means a £25.00 donation then becomes £31.25 if made via Gift Aid, so adding £6.25 to the donation!
"On-line giving is safe and easy, but if you prefer not to use on-line facilities there are other options by cheque and the post of course to our address in Minehead, or via regular standing order or direct debit for regular donations from your bank, and these forms can be downloaded too which are ideal for Gift Aid. Please help us to save the WSR for the future."
2nd April 2020 - Original Article
After the West Somerset Railway plc (WSR) was forced to suspend operations and shut down on 17 March – before the 2020 running season even got underway planned for Saturday 21 March – an urgent appeal was launched on the company's website for desperately-needed funds to help the 22-mile line heritage line get through the Coronavirus crisis.
And, in just two weeks since then, the WSR has received over £30,000 in donations and share purchases to help keep the railway's wheels turning in the future!
This remarkable, strong show of support for the WSR has come from its many friends, supporters, stakeholders, shareholders, staff, volunteers and people across Somerset and the entire country, all of whom clearly want to see the railway survive and get through the second crisis to envelop the line in the last two years.
And the WSR website funding appeal has come at the same time as a number of other national appeals for emergency funds, including other heritage railways who are now all in the same boat as the WSR in having zero revenue and now facing considerable uncertainty over their futures, so its rapid success in raising so much money is even more remarkable.
The money, which totals £30,140 to date (1 April), has come in the form of: website donations (£15,990); cheque donations (£100); WSR plc share purchases (£3,050), and WSR station group donations (£11,000), and it is going up day-by-day probably making it the most successful appeal for funds in the railway's 44-year history.
And, it's not just only been one-way traffic either as the WSR plc has itself given food from its now-closed Turntable Café in Minehead to the community via the 'West Somerset Food Cupboard', and also sourcing and donating suitable rubber gloves from its workshop as PPE to the local hospital too in a show of solidarity and support for both the area and the NHS.
The railway's principal support organisation, the West Somerset Railway Association (WSRA), has also opened a separate fund for infrastructure works on the line which is intended for use in the winter of 2020 / 2021, but it has launched the fund now so that it is able to fund infrastructure works in the near future if and when suitable projects can be identified by the WSR plc.
WSRA members and WSR supporters have been generous in the past in funding other railway projects, such as the return to traffic of steam locomotive No. 9351 and the rail renewal projects last winter, and supporters are being asked if they can support the Railway's improvement again at this difficult time and so help turn a negative into a positive.
UK tax payers can also give more money because a 'Gift Aid' donation to a registered charity such as the WSRA is boosted by a 25% uplift from the UK Government, so a donation of £100 is then worth £125.
Commenting on the success of the WSR fund-raising appeal to date, WSR plc Chairman Jon Jones-Pratt said: "I've been both humbled and pleasantly surprised by this great show of financial support for the West Somerset Railway, especially when the minds of many people will naturally be on just getting themselves and their families through the Covid 19 pandemic crisis safely. It shows just how much people care about the WSR and what it means to so many of our friends.
"And I'm also very pleased that we have also been able to give something back to the local community too with our donations of food to the local 'Food Cupboard' and some rubber gloves for the NHS – whilst we know it's only something fairly small in the scheme of things at present, we felt we had to do something positive to show solidarity with the community and every little helps at present.
"Our own WSR family has once again stepped forward to help us too with shareholders and our station groups contributing significant money to our cause, plus the WSRA infrastructure appeal as well. The more money that we can raise now will all help our lovely railway line to continue steaming through the West Somerset countryside, and so help to prevent the WSR from becoming a Coronavirus casualty."