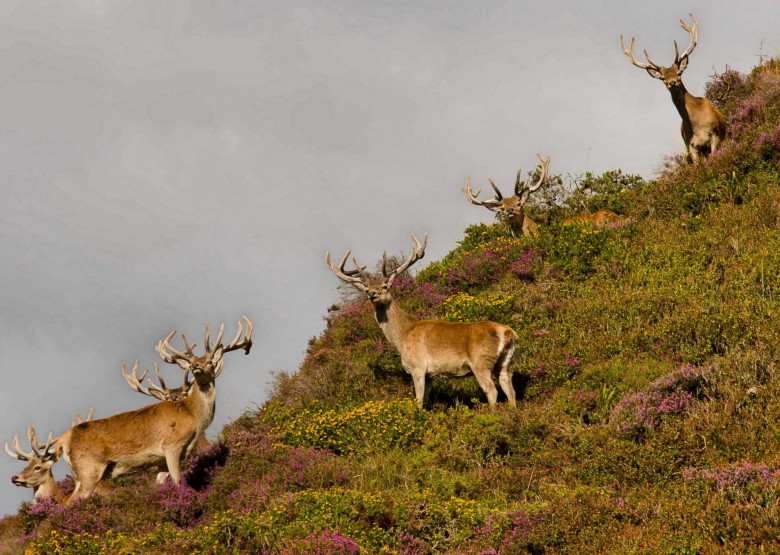 It's a special time of year here on Exmoor when misty mornings often give way to glorious golden days, the sunshine glistening through bronzed leaves creating a perfect backdrop for autumn walks. Or sometimes low, dark clouds and gusty winds send us inside to sit near a cosy log burner with a cup of local Miles Tea and, later maybe, an Exmoor Wicked Wolf G&T. Walking and refreshments aside, have a look at some of our top picks of what to do on Exmoor this autumn.
Home to over half of all the Red Deer in England, you would think that spotting the UK's largest wild land animal would be easy on Exmoor. But those who have spent hours glued to binoculars know that's not necessarily true. However, take a trip with one of our local safari specialists and you'll be on the right track. More details here.
Ever flown a Bird of Prey? Well, here's your chance.The Exmoor Owl & Hawk Centre offer a timeless experience from its 15th century farmhouse deep in the peaceful Exmoor countryside in Allerford. You can fly birds, you can ride horses, enjoy the tea gardens, bring a group, come alone. It's a great idea for a birthday treat.
Shhh…. relatively few people know about fishing on Exmoor and therefore it is calm and uncrowded and you'll probably find your fellow fishermen friendly,helpful and willing to share their tips. The surrounding scenery is picturesque and accessible too. Learn more here.
The Exmoor coast is just as stunning viewed from the sea. Channel Adventures have a range of kayak and SUP experiences this October for both beginners and more experienced watersports enthusiasts. Borrow a wetsuit and relish the exhilaration of an October sea, not quite as cold as it sounds.
Have you shaken hands with 'The Walker'? Our newest statue, unveiled this summer by BBC's John Craven, is proving a popular photo opportunity for those finishing long distance – or shorter – walks. Marking the end of the Two Moors Way and The Coleridge Way and intersecting the South West Coast Path, come and meet 'The Walker' on Lynmouth's fine esplanade.
Exmoor Dark Skies Festival
Don't forget Exmoor National Park's Dark Skies Festival 19 – 26 October. A starry celebration of the wonders of Exmoor after dark, there is a whole host of celestial events for all the family, including: Astronomy talks/Planetarium Sessions/ Night walks/ Night swims/ Stargazing tours/ Astro party and much more.For full information visit the website.