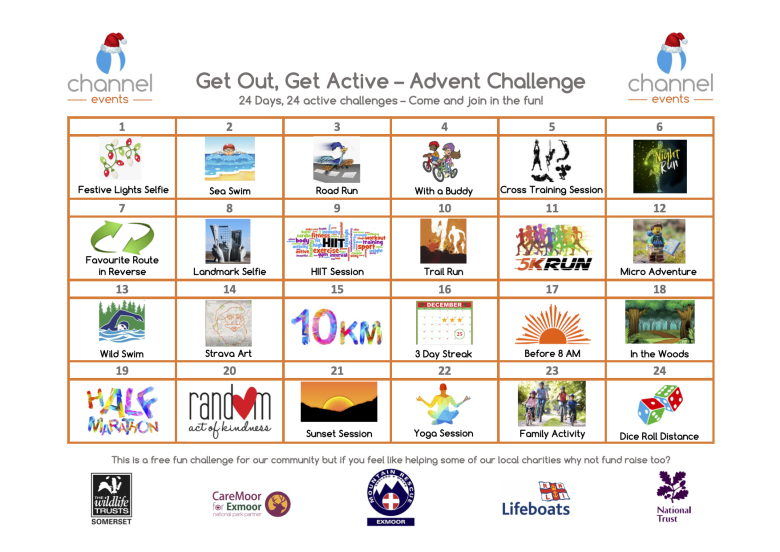 Check this out and get involved!
Get Out, Get Active – Advent Challenge
24 Days, 24 active challenges – Come and join in the fun!
Come and join in some fitness fun over the advent period by taking on our FREE 'Get Out. Get Active' Community Advent Challenge.
Can you complete all 24 challenges?
We want this to be as inclusive as possible, so the set of challenges below is just a guide and you don't have to be active every day. One activity session may tick off more than one challenge!
Run, Walk, Cycle or Paddle the distance options, the choice is yours!
Don't fancy one of the challenges? No problem, you can choose your own replacement(s).
We'd love you to share the fun you're having with us via social media. Come and join our Mid-Week Warriors Facebook group (https://www.facebook.com/groups/MidWeekWarriors) and upload your progress with images and video. Don't forget to like and comment to support others too!
You can also tag us into your Instagram posts using @channeleventsuk, Twitter using @ChannelEventsUK and Facebook using @ChannelEventsUK
This is a free fun challenge for our community but if you feel like supporting one of our local charities why not fund raise too?
Fancy a medal for your efforts, why not sign up to our Stay Home Virtual Challenges via our website (https://www.channelevents.co.uk/virtual-challenges/) and we'll send you one of our wooden medals to decorate in your own style to reflect your achievement!
Please remember to adhere to current COVID-19 guidelines while completing your challenge.
We can't wait to hear all about the fun your having earning that Christmas Dinner!