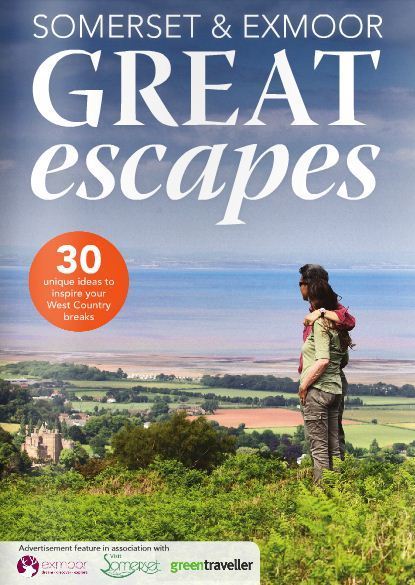 An inspiring new publication 'Somerset & Exmoor – Great Escapes' has been produced by Greentraveller to highlight the range of sustainable rural tourism experiences for visitors to the region.
The publication is distributed with January's issue of BBC Countryfile Magazine as well as through other channels including the Exmoor Magazine, and is supported with bespoke online content and a new web video - visit the dedicated web page here to view.
The guide includes 30 different ideas to encourage breaks in Exmoor and Somerset, from staying in unique accommodation and observing starling murmurations on the Somerset Levels to indulging in gourmet local food, walking in a poet's footsteps and experiencing Exmoor's International Dark Sky Reserve.
Exmoor National Park Authority, Somerset County Council, Sedgemoor District Council and West Somerset Council secured funding to commission the sustainable tourism marketing agency Greentraveller to produce the publication, drawing on its team of professional travel writers and designers to showcase the whole of Exmoor and Somerset as a world class, innovative visitor destination to a national audience.
The partners identified over 100 local businesses that offer products and services that support these iconic experiences; including accommodation providers, guided tours, food and drink providers, transport services, etc.
Both the experiences and supporting businesses are also being promoted online via Greentraveller's national green holidays website, the new Visit Exmoor website, Visit Somerset's website, and social media. Greentraveller has also produced a supporting video to promote further the range of experiences in the region.
The author of the supplement, Greentraveller's Paul Bloomfield, said: "Somerset and Exmoor is a land of castles and cliff tops, of charming hamlets and wild moors, of clean air and burbling brooks, of starling murmurations and stags roaring. It's where farms produce fabulously fresh food – and restaurants and pubs dish it up. In short, this is the English countryside par excellence – and the perfect destination for a great escape, whether it's for a day ambling one of the well-marked footpaths or a week exploring the byways and villages.
"This guide brings together over 100 business that support a range of inspiring experiences across the region, promising a treat for everyone, whether your interests are astronomy or gastronomy, activities or festivities."

Cllr David Hall, Somerset County Council's Cabinet Member for Business, Inward Investment and Policy, said: "I am delighted to support this publication which should really help to highlight everything that Somerset has to offer at this crucial time of year, when so many potential visitors are planning ahead for their breaks. We are also working closely with Visit Somerset to encourage more hits on the Visit Somerset website which gives residents and visitors great ideas for day trips."
Dan James, Sustainable Economy Manager at Exmoor National Park Authority, said: "We're excited to have worked with Greentraveller on this new campaign which brings together some of the great experiences on offer. Exmoor is such a diverse area we're confident there really is something for everyone. Each experience is supported by some great local businesses who are keen to help you make the most of any visit to the area."