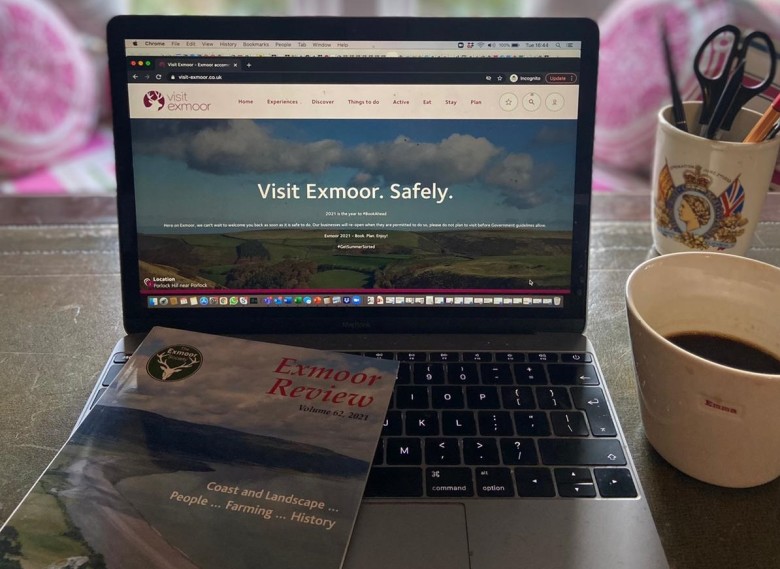 This time last year, along with Destination Marketing Organisations across the UK, we were doing the unimaginable and launching our #VisitExmoorLater communications. At the same time, with Exmoor National Park Authority, we were jointly leading work on the Exmoor Covid Tourism Recovery Plan - bringing togetherour area toruism partners and working together like never before.
We are stronger together. Our small businesses, communities, partners and visitors have demonstrated they are responsible, they are adaptable and they are innovative. That is the legacy from the last year and we are so very proud.
Article for the Exmoor Review 2021 published by The Exmoor Society in January:
Exmoor Tourism Recovery – why our "Exmoor Warm Welcome" is vital to our communities
In July 2020, tourism businesses across Exmoor and surrounding areas began to re-open and welcome back visitors. In order to deliver a warm and safe welcome for locals and visitors, all our businesses have been working hard to adapt to the "new normal". COVID-19 safe practices mean businesses are operating at a reduced capacity as we embark on a long journey to revive our local economy.
Exmoor National Park Authority and Visit Exmoor continue to support our local businesses and have been leading the Tourism Response and Recovery Plan, bringing together a wide range of tourism partners across Exmoor and surrounding areas.
We are working together to promote the area responsibly, with community interest at the heart of our messaging. Throughout lockdown there has been a clear 'VisitExmoor. Later' message, encouraging audiences to enjoy Exmoor virtually from their own homes. More recently this has evolved to become 'VisitExmoor. Safely', adopting the national "know before you go" campaign, and incorporating the COVID Countryside code, promoting safe and enjoyable visits to the area.
Throughout lockdown and re-opening, our Exmoor area communities have had understandable concerns. We have listened to these, and engaged with our communities whilst, at the same time, being as reactive as possible to fast changing government guidelines and visitor behaviours.
The visitor economy is important to every one of us who lives across Greater Exmoor. We typically welcome over 2 million visitors a year and this industry is a significant part of our everyday life. The impact to our visitor economy is therefore an impact to us all. 54% of our local economy is derived from tourism and day visitors. Over 60% of all employment in our area is reliant on tourism, creating the equivalent of around 2,200 full time jobs across the area. When compared to Devon and Cornwall (who rely on tourism for 11% and 12% of their respective economies) this figure becomes a startling reminder as to the level of dependency that rural Exmoor has on tourism and visitors.
This year, in the lockdown period from March to June 2020 alone, our local tourism economy lost over £122m. Jobs have already been lost and business have closed. It goes without saying that many of our accommodation and hospitality businesses will not survive without visitors. In addition, our retail, services and amenities rely, in part, on the visitor economy. They are also at risk and the survival of these businesses is vital for our communities.
As we step forward in this ever-changing situation, our ability to work together, be flexible and find creative solutions will be key to our recovery. The new normal will present both challenges and opportunities. We have learnt to be reactive, and our key focus now is to extend the season and to adapt our Exmoor tourism offering to changing consumer behaviours.
Collectively we also need to be aware of updates to government guidelines and continue to be mindful of the safety of our communities and visitors. Visit Exmoor will continue to promote Exmoor in a way that encourages locals and visitors to enjoy our beautiful Exmoor safely and to support our local businesses.
There will of course continue to be challenges and we need to continue to work together to address these. For example, the rise of the "staycation" has seen heavy footfall at our "tourism hotspots" and an influx of campervans and wild campers. Working with our friends at Exmoor National Park Authority and the local town and county authorities we will have to continuously consider how we encourage the spread of visitors, tourism and locals across the whole of our Greater Exmoor area.
Exmoor is beautiful and it is unique. It is easy to understand why people want to visit and experience all we have to offer and we are also becoming famous for our warm welcome. Part of what makes Exmoor special is the life and vibrancy within our communities and this is dependent on our visitor economy.
As Exmoor residents we are custodians of this wonderous place. Part of that responsibility is to responsibly share Exmoor with our visitors. We should all be proud of how our communities, businesses, local authorities and tourism partners have come together across Exmoor like never before during this period. We are stronger together. By working together and listening to each other we stand the best chance of finding a balance that enables us to revive our economy, protect our communities and deliver a warm and memorable welcome to our visitors.
Find out more:
Emma Thomasson, Director of Strategy and Operations – Visit Exmoor director@visit-exmoor.co.uk
For more information about the Exmoor Covid-19 Tourism Recover Plan
Visit Exmoor have also introduced a free 'Associate Member Program' for all tourism and visitor related business across the area. This is to ensure that all businesses have the ability to be linked to the work that is being done on the Exmoor Tourism Recovery Plan and consistent business support details.
For more information please visit our Business Hub.