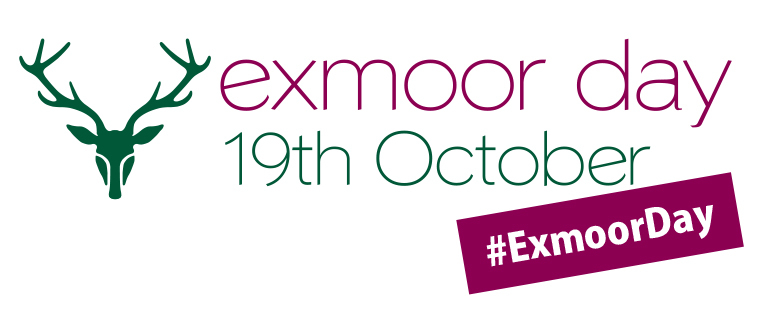 On Monday 19th October, Exmoor lovers from near and far will celebrate #ExmoorDay on the anniversary of its designation as a National Park in 1954.
Throughout the day the National Park Authority and partners will be taking to social media to celebrate all that Exmoor means to the nation, from the breath-taking beauty of its scenery, heritage and wildlife to incredible ways you can experience it in the flesh.
Everyone is invited to follow the Day and join in by sharing their own experiences and photos of Exmoor using the #ExmoorDay hashtag. National Park Centres in Lynmouth, Dunster and Dulverton will be offering 10% off everything along with free Cliff bars and past copies of Exmoor Magazine with every purchase. Local businesses and communities are joining in too and an outline of what's happening is available at www.exmoor-nationalpark.gov.uk/exmoor-day.
Katrina Munro, who is helping coordinate #ExmoorDay on behalf of the National Park, said: "Throughout the day look out for promotional offers and experiences, special menus and recipes using delicious Exmoor produce, tips and hints for enjoying the landscape and ways to get involved in caring for it. We'll also be showcasing a special #ExmoorDay film about all the wonderful reasons to love Exmoor and celebrating the community's efforts to replace Woodside Bridge in the stunning East Lyn Valley. Exmoor's rural economy and communities have been hugely impacted by coronavirus and so in the midst of this we're keen to support local businesses to highlight all that is good about Exmoor."
Exmoor's designation order was confirmed by the then Minister for Housing and Local Government – Harold Macmillan – on 19th October 1954 and it is today one of 15 UK National Parks representing some of the nation's most treasured landscapes.
These special places were chosen not just for their outstanding natural beauty – rich in wildlife, culture and history. But also as a 'recreational gift to Britain's returning Second World War service men and women' to bring inspiration and spiritual refreshment to the nation.
On Exmoor a huge amount has been achieved to breathe life into that pioneering vision since 1954 – from more than 1000 km of rights of way including the start of the UK's longest and best-loved National Trail, to a living working landscape championing traditional ways of life and wild places largely lost from modern-day Britain.
Sarah Bryan, Chief Executive of Exmoor National Park Authority, said: "One of the things people love most about Exmoor is its incredible variety – the heather in bloom, picturesque hilltop farms and villages, a spectacular coastline, ancient wooded valleys, fast flowing streams and the magic of its starry night skies. But what makes Exmoor really special is its people and the sense of pride we all feel for this beautiful place. That feeling goes right to the heart of why National Parks were created and we're proud to be one of 15 UK National Parks that today share that passion.
"Even so the pandemic is a stark reminder that we live on a planet that can be as hostile as it is homely. The outdoors has become one of the few remaining freedoms people can enjoy and this year we have seen thousands flock to Exmoor. Some are old friends while others are discovering Exmoor for the first time and we hope beginning a life-long love of nature, with all its benefits for body, mind and soul.
"I'm very proud to be sharing some of those qualities with the world, through the power of social media and with the help of many wonderful partners and businesses who together help make Exmoor the incredibly special place it is today. Please do join in too by using #ExmoorDay to share what you love most about Exmoor National Park."
Follow @ExmoorNP on Facebook and Twitter and exmoor_national_park on Instagram using the hashtag #ExmoorDay to join in the celebration.