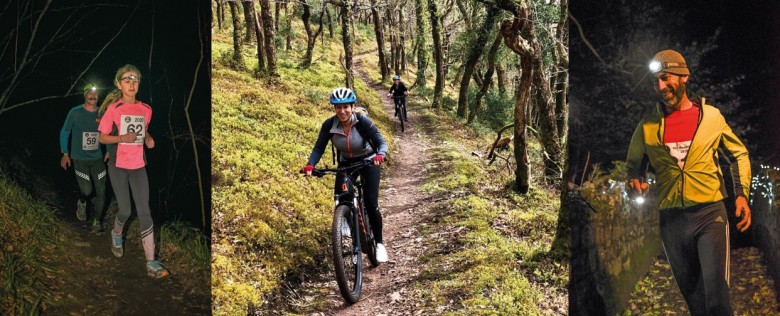 Here at Visit Exmoor, we thoroughly recommend coming to Exmoor to get Active! Looking for some inspiration? Read on!
ACTIVE I
E-Biking by Dan French
Exmoor and the Quantock Hills are known by mountain bike enthusiasts far and wide as areas of incredible scenery, with hundreds of miles of bridleways, varied terrain and awesome tea gardens!
Riders often comment on the peace and tranquility of the areas, with fairly low numbers of visitors on the trails, when compared with some of the other more congested National Parks.
We are lucky to live in an incredible environment, and mountain biking is a great way to immerse yourself in it!
ACTIVE II
Running Wild Under Dark Skies by Dan Brice
Exmoor is a trail runners' playground, its varied landscapes making for an amazing environment in which to immerse yourself and enjoy a truly wild running experience – from the rugged and beautiful South West Coast Path, to the wide-open trails around Dunkery Beacon on the Holnicote Estate; from the wooded valleys of Horner Water and the East Lyn, to the wild and remote moorland of the Chains and the romantic Doone Valley. And, whether it's a swift 5km or an ultra-marathon you're after, you can plan the adventure that suits you!
For many, running happens when the days are longest and the weather friendly but don't hibernate your running this winter; get out there and explore this fantastic landscape after dark and throw yourself into a whole new world of adventure. Exmoor National Park was Europe's first designated Dark Skies Reserve so what better place than here to experience the thrill of trail running at night!?
With special thanks to Naomi Cudmore, Editor at Exmoor Magazine, for allowing us to share these articles. Interested in purchasing the latest issue of Exmoor Magazine or taking out a subscription? Visit www.exmoormagazine.co.uk for all the details.